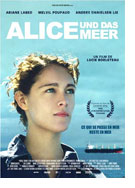 Alice und Das Meer (Fidelio: Alice's Odyssey, L'Odyssée d'Alice)
France 2014
Opening 22 Sep 2016
Directed by: Lucie Borleteau
Writing credits: Lucie Borleteau, Clara Bourreau
Principal actors: Ariane Labed, Melvil Poupaud, Anders Danielsen Lie, Pascal Tagnati, Jean-Louis Coul'h
Alice (Labed) has an unusual job for a woman: she is a mechanic on a large freighter called Fidelio and the only woman on board. The ship seldom makes visits to ports and Alice, happily married to Felix (Lie), misses her husband and sex. The men on board find Alice very tempting, of course, and she succumbs to the captain, Gael (Poupaud), later revealed as her first love.
After a stop at the home port, Alice is briefly reunited with Felix but is suddenly recalled to the ship and promoted to Chief Mechanic. This time she avoids the captain, but has sex with another of the men. Labed is lovely and plays her role well and believably. (She won the best actress award at the Locarno Film Festival)
The sex scenes, of which there are many, are graphic but not pornographic, (thanks to the refined elegance of Labed), and not very erotic. Nonetheless, sex is really all the movie is about. OK—loneliness at sea etc. And there are references and flashbacks to a diary found by Alice in her cabin, formerly the cabin of her predecessor, whose mysterious death is never explained. She shares the diary with her husband to show him how sad and lonely life is on board.
I found the editing disjointed, the different male characters indistinguishable, and the film disappointing. (Adele Riepe)