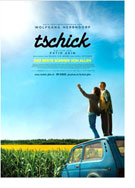 Opening 15 Sep 2016
Directed by: Fatih Akin
Writing credits: Hark Bohm, Wolfgang Herrndorf, Lars Hubrich
Principal actors: Anand Batbileg, Tristan Göbel, Nicole Mercedes Müller, Aniya Wendel, Bella Bading
A coming-of-age/coming in to your own fantastic comedy — from its opening credits through to end credits — treat yourselves to Fatih Akin's latest cinematic accomplishment.
Fourteen is not easy under normal circumstances, and Maik's (Göbel) are anything but. His dysfunctional family life, plus conspicuous unpopularity with classmates, means being stuck with the (ostracized) new kid is a curse. Almost as bad as not being invited to Tatjana's (Aniya Wendel) — only the hottest girl in class — birthday party. Summer vacation? His wealthy errant parents (Uwe Bohm, Anja Schneider) have their own plans. No big deal. Until 'Tschick' (Batbileg) shows up, admiring everything about Maik's "kick-ass" life. Somehow, Tschick convinces him to drop-by Tatjana's party; their exit leaves the merrymakers in the dust, whereby Maik realizes Tschick's demeanor is his strength. Taking on a life of its own, the boys embark on a road trip. Maik's rewards are another new friend (Müller), and the best summer ever. Its repercussions are life altering and, who wants to wait fifty years?
Based on Wolfgang Herrndorf's same-titled 2010 bestseller, the screenplay captures its spiritedness. Director Akin pulls together a laudable ensemble; the cast conveys the essence of each individual character. Kudos to Anand Batbileg, Tristan Göbel, and Nicole Mercedes Müller — whose screen time is too short — for captivating performances. Vince Pope's music, together with well-chosen popular tunes embodies the storyline, in tandem with brilliant editing (Andrew Bird) in time with its beat, and the film's pace. Cinematographer Rainer Klausmann's choices – wide to close-up shots, angles, et al., are balanced, sensitive, drawing audiences in.
Blended into the boys' travels are lifetime lessons: adaptability, awe of nature, trust, friendship, accountability, acceptance – a nudging reminder for all ages. Tschick is a "kick-ass" ride, and promises to touch a cord in all. (Marinell Haegelin)