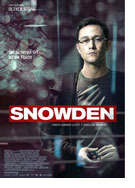 Opening 22 Sep 2016
Directed by: Oliver Stone
Writing credits: Kieran Fitzgerald, Oliver Stone, Anatoly Kucherena, Luke Harding
Principal actors: Joseph Gordon-Levitt, Shailene Woodley, Melissa Leo, Zachary Quinto, Rhys Ifans
Director Oliver Stone has once again taken on a highly controversial theme, namely a closer look at Edward Snowden, and was surprised to be financially blocked by all the major studios in Hollywood. That wasn't completely surprising since this is a presidential election year, and it does shed an unflattering portrait of Obama as a man without strong conventions, but actually it had nothing to do with government pressure. It was simply due to the corporate boards not willing to take the risk. I think this film will be a huge hit and they are going to regret their decisions.
Luckily in this day and age, there are other ways to seek financial support, and in this case it was France and Germany that came to the rescue, otherwise this very important film would not have been made. Although Snowden is a drama, it takes a strong biographical look at who is Edward Snowden really. We look at his military background, his physical condition problems, his love life and his computer talents. We see a man struggle with a complex question of government invasiveness and should it be allowed in the lives of individual lives. Is he a hacker or a whistleblower? And have we, the people, woken up yet to see the invisible hands of the government who could be using devices like games to cross over the boundaries and monitor us in ways that we are unaware. We see a man who is ethically struggling with the right decision to make and at the same time remains a mysterious man who is like some super hero whom we can only contact via video cam.
Joseph Gordon-Lewitt who plays the role of Snowden did a fantastic and convincing job. This is a must-see film for everyone who owns a mobile phone, computer or any other electrical device. (Shelly Schoeneshoefer)


Second Opinion

From its tense opening to its contemplative, quiet ending Snowden is spellbinding, no doubt controversial, and on no account confusing. Oliver Stone's films never are. Meeting with two Americans, award-wining documentarian Laura Poitras (Leo) and lawyer, journalist, author Glenn Greenwald (Quinto), their conduit is Britain's The Guardian defense and intelligence correspondent, Scottish journalist Ewen MacAskill (Wilkinson). Wanting verification, Ed (Gordon-Levitt) gives them much more. Cutting back and forth (outstanding editing by Alex Marquez, Lee Percy) from Hong Kong, June 2013 to the beginning, Ft. Benning (Georgia) Special Forces training 2004, we learn Edward J. Snowden's backstory. About his personal history: instructors, professional experience – National Aeronautics and Space Administration (NASA), Central Intelligence Agency (CIA), National Security Agency (NSA), his relationship with Lindsay Mills and his unique personality­­—intelligent, smart and with ethical fortitude and moral courage.
Co-writers Oliver Stone and Kieran Fitzgerald whittle a long, complex account into 139 minutes. Two books provide the screenplay's basis: Luke Harding's The Snowden Files: The Inside Story of the World's Most Wanted Man and Anatoly Kucherena's Time of the Octopus. Music by Craig Armstrong and Adam Peters augment the onscreen exploits, while Anthony Dod Mantle's cinematography is charged, inclusive. The USA is involved in Snowden's production, just not financially. (The Whistle Blower 2010 [Kathryn Bolkovac] is Canada | German co-production.)
Whistleblower: a person who informs on someone engaged in an illicit activity (Oxford American Dictionary). During the American Civil War, a law was passed in favor of whistleblowers – The False Claims Act, 1863. That was then, this is now. Anyone remember Federal Bureau of Investigation (FBI) Special Agent Jane Turner's whistleblowing in the aftermath of 9/11, and its repercussions? Julian Assange of WikiLeaks, U.S. Army soldier Chelsea Manning, Federal Air Marshal Robert MacLean, Panama Papers, Pentagon Papers and Daniel Ellsberg, Jesselyn Radack, Thomas Drake, Kathryn Bolkovac and Frank Serpico (both accounts inspired movies), etcetera, etcetera – are we becoming immune? Desensitized?
The conundrum is, laws made for all peoples' compliance – the powerful, wealthy, and governments – are not being respected. Worldwide, each country has its own laws. Whistleblowers actions champion transparency in societies to enable instigating accountability and reforms. A cohesive production crew, excellent cast, and firm direction ensure a film too good to not see. (Marinell Haegelin)