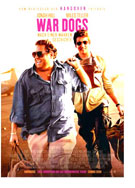 Opening 29 Sep 2016
Directed by: Todd Phillips
Writing credits: Stephen Chin, Todd Phillips, Jason Smilovic, Guy Lawson
Principal actors: Jonah Hill, Miles Teller, Steve Lantz, Gregg Weiner, David Packouz
The March 2011 issue of the Rolling Stone Magazine comes out with an article from journalist Guy Lawson called "The Stoner Arms Dealers: How Two American Kids Became Big-Time Weapons Traders". The subjects in Lawson's article are the basis for filmmaker Todd Phillips' latest feature film War Dogs. The screenplay, co-written by Todd Phillips, Jason Smilovic and Stephen Chin, is loosely based on the actual events but the main premise holds water.
In 2007 three twenty-something potheads from Miami Beach, Ephraim Diveroli, David Packouz, and Alex Podrizki score a U.S. Government contract to supply large amounts of ammunition to the Afghanistan military. A $300 million deal. As one of the Pentagon's largest weapons suppliers, these 'kids' have no experience working with neither the military nor the government in selling arms but they are smart and clever. Understanding the money to be made is unimaginable, they represent themselves as private contractors to bid on defense contracts posted on a public website. Their bids for the small jobs are accepted. Their track record leads them to the higher stakes. Oh! Less we forget: Lawson's article mentions that the 'kids' were lovers of illegal substances adding to the drama of the narrative both on and off the screen.
In 2015 Lawson's book Arms and the Dudes: How Three Stoners from Miami Beach Became the Most Unlikely Gunrunners in History continues the conversation of his 2011 article chosen for the Rolling Stone Magazine. Lawson includes years of research and detailed information of the Pentagon's successful gunrunning organization.
Lawson says, "I knew from reporting the article there was more to discover — way more," He continues, "There were documents under seal in federal court, and I hadn't talked to all of the dudes. So I persisted and got a few breaks and the truth eventually emerged, in all of its crazy and unbelievable glory."
The story, ripe for the Hollywood box office, brings on-board seasoned actors Jonah Hill, Miles Teller and Bradley Cooper to clinch the deal. The cast is superb with what they have to work with and, over all, the film has given me a boost in my Fantasy Movie League predictions.
Synopsis: Former childhood comrades, Ephraim Diveroli (Jonah Hill) and David Packouz (Miles Teller) reunite in their twenties at a funeral in their home town. David, a massage therapist, lives a peaceful life with his pregnant girlfriend, Iz (Ana de Armas). To earn additional income David sells cotton sheets to Miami retirement homes. In contrast, Ephraim has money and loves everything expensive. He moves back to Miami to start his own company selling guns--a business learned from his uncle while living in Los Angles.
At the height of the Bush administration's wars in Iraq and Afghanistan, the U.S military is desperately trying to supply weapons to the armed forces in these countries. Often the fastest way to get what they need is a purchase and delivery system through private contractors. Diveroli's company AEY, stages as a private contractor in order to fill orders for arms placed by the U.S. government.
Ephraim offers David a job at AEY to help secure the small arms contracts worth millions. Ephraim explains to David that all orders placed for military equipment are posted on a public website, where anyone can place bids to fill the orders. David, apprehensive to join the ranks, needs convincing it is legitimate. David sees the ease to secure the small jobs the larger contractors could not be bothered with and takes Ephriam's offer.
David and Iz both strongly oppose the war so tell Iz that he has begun selling his cotton sheets to the US government through Efraim's contacts.
Ephriam and his trail of lies spiral up before down. AEY secures several small contracts one of which tests their grit when a shipment is in jeopardy where they could be blacklisted by the U.S. Government for failing to deliver the goods. Legendary US arms dealer Henry Girard (Bradley Cooper) mysteriously steps in to assist AEY for a successful mission. But, not without strings attached that AEY discovers will literally bring them to their knees. (Karen Pecota)