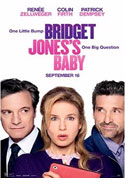 Opening 20 Oct 2016
Directed by: Sharon Maguire
Writing credits: Helen Fielding, Dan Mazer, Emma Thompson
Principal actors: Renée Zellweger, Colin Firth, Patrick Dempsey, Jim Broadbent, Emma Thompson
I almost didn't recognize Bridget Jones this time around—her face isn't puffy anymore! Renée Zellweger didn't have to gain weight for this episode, 11 years after the last one. Bridget is now 43 and has been single and separated from Mr. Darcy (Firth) for some time, but on the upside she has learned to make healthy life-style choices and has her dream figure.
And here's another surprise: Bridget has a successful television career as the manager of a news interview show! But hey, we always knew she had it in her.
Bridget being Bridget, though, she forges ahead with her social life. The scenes shot in yurts at a rock festival (mud fields à la Wackersdorf) were some of the funniest I've seen in a long time. That is Saturday, day one, meet Jack (Dempsey). Then comes Sunday, day two and an obligatory family get-together, where Bridget can't avoid being grouped together with her ex, the newly-separated Mr. Darcy.
Bridget finds herself pregnant without knowing whether from day one or day two, and her illusion of coping takes over from there. Her doctor (Thompson) adds her own spicy opinions about the situation, and her wacky colleagues help her muddle on through.
This movie was a lot of fun despite a slightly lackluster performance by Zellweger, who seems at times more than a little absent-minded and way too vague for the new Bridget. The whole effect, though, of all the back-to-back comic situations, the terrific cast and the not-too-overdone screenplay made me laugh all afternoon. It's worth seeing if you're a Bridget fan. (Ann Gebauer-Thompson)


Second Opinion

Bridget Jones (Zellweger) is back for a third try to sort out her love life. Now in her forties, she is her ideal weight, has a great job as a television producer, but is still single. When friend and co-worker Miranda (Sarah Solemani) convinces Bridget to get away for a weekend, the Glastonbury Festival is a muddy surprise which leads Bridget to an unexpected tryst in a yurt with a very sexy stranger, Jack (Dempsey). A few days later, Bridget attends the funeral of her former lover Daniel (Hugh Grant) and is shocked to see her other love, Mark (Firth), with his wife. Bridget learns Mark is divorcing, so they celebrate singleness with a one-night stand. A few weeks later Bridget is struggling to get into her own pants. Pregnant!
The rest of the film follows her pregnancy with two potential fathers vying to be top pop. Many familiar characters, lots of silliness and charm, this is an entertaining threequel with a romance novel ending. (Mary Nyiri)