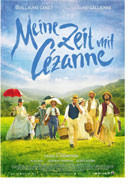 Meine Zeit mit Cézanne (Cezanne and I, Cézanne et moi)
France 2016
Opening 6 Oct 2016
Directed by: Danièle Thompson
Writing credits: Danièle Thompson
Principal actors: Guillaume Canet, Guillaume Gallienne, Alice Pol, Déborah François, Pierre Yvon
The title is a little misleading, since this is a story of Cézanne and Zola as seen through an outside perspective, not through Zola's eyes. This film is a thoughtful and beautiful cameo of two great French cultural icons, who grew up together and parted ways in middle age.
We first see Zola and Cézanne as 13-year-olds in Aix-en-Provence, inseparable friends in a beautiful but socially conservative environment, exploring, laughing, discussing ideas into the night. These moments are light and joyous.
Danièle Thompson delves right into the familial core of this double artistic development: Cézanne (Gallienne) is the son of well-to-do parents who wish for nothing more than a solid career for their child, and their moody artistic son disappoints them. Zola (Canet) is the son of an impoverished Italian widow and propagates radical freedom from the chains of enslavement. Both are outsiders; each is an essential support and inspiration for the other.
This deep friendship lasts into early adulthood in the wider world of Paris. Whereas Cézanne lives the free life of the bohème, Zola is shy and inhibited and needs the help of his friend to find a wife, Cézanne's model and lover Alexandrine.
And here begins the irony: as Zola becomes popular, his lifestyle in Paris gradually approximates that of Cézanne's parents and meets with their full approval. Cézanne craves recognition but is rejected by his parents, the artistic establishment, and even the emerging scene of the impressionists, which he detests. He becomes more and more of a recluse in Aix.
Gallienne, a regular ensemble member of Comedie Française, excels as Cézanne. With tiny expressions and movements he captures his joy, his fear of rejection, and the true modernity of his work.
The women are all tough as nails. Madame Cézanne and Madame Zola see to it that their boys don't starve. The young wives undergo the same social transformation as their husbands: Alexandrine Zola (Pol) defends her social standing and becomes a part of the establishment; Hortense Cézanne (François) spends much of her time saving paintings from destruction during Cèzanne's outbreaks of frustration and anger.
The settings, both in Provence and in Paris, are elaborate and the costumes perfect. This is a film rich in detail and in joie de vivre. (Ann Gebauer-Thompson)