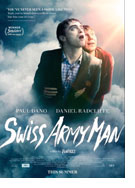 Opening 13 Oct 2016
Directed by: Dan Swan, Daniel Scheinert
Writing credits: Fede Alvarez, Rodo Sayagues
Principal actors: Paul Dano, Daniel Radcliffe, Mary Elizabeth Instead, Antonia Ribero, Timothy Eulich
Between gurgles, hisses, hiking, and complete with reenactments, Hank's (Dano) strange tale surfaces. Steeped in despair, a beached corpse provides his means of escape. After dolphin-riding the gas-filled body, both wash ashore following an accident… below high-towering forestry! Unable to abandon his savior, Hank hauls him along, naming him "Manny" (Radcliffe). With time, and no one else to talk to, "Manny's" importance evolves, as do unnatural, inexplicable developments. Unlike the Swiss Army multi-tool knife's reliability, Hank's newfound friend is unpredictable. Until Sarah (Winstead) materializes. Mix-ups, misunderstandings, and Crissie (Ribero) force actions whose downslide is flabbergasting, if not insightful.
Paul Dano and Daniel Radcliff's proclivity for unusual roles makes them ideal for this challenge; without a doubt, they carry the film. Writer–directors Dan Kwan and Daniel Scheinert overtax idiosyncratic fantasy. Devaluing Swiss Army Man's promise is a childishly excessive fixation on flatulence, masturbation, and defecation. Supported by the Sundance Institute, and shot in California (Larkin Seiple) the production values (Matthew Hannam editing, Jason Kisvarday production design) are very good. Dano and/or Radcliff sing many of Andy Hull and Robert McDowell's songs. Showing at Germany's Fantasy FilmFest (August – September 2016) is understandable. Mainstream cinema? Although it has its moments, you can decide should you choose to see this film. 95 minutes (Marinell Haegelin)


Second Opinion

There is nothing to compare this macabre, hilariously absurd and disrespectful fantasy film to. No synopsis will really prepare anyone for what they are about to watch. Lovingly crafted sculptures and juice cartons with SOS messages float by on the open sea, their playfulness and lightness refuting real urgency or danger. Then we watch a young man ditching his suicide attempt, not a second too soon, when he spots a body that has washed up on the beach of this deserted island.
These marvelously absurd first scenes are just the subtle beginning. Unfortunately 'the body' (Daniel Radcliffe) is a dead body. Each time Hank (Paul Dano) moves the bloated corpse, a roaring fart escapes. He swiftly takes advantage of the propelling force of these huge amounts of excess air and joyrides the body through the waves like jet-skis. This is just one of many practical (and psychological) uses Hank will find for Manny (as he calls him). With Manny in tow Hank makes a fresh attempt to get back home. (Naturally) Manny can't move by himself; he has no memory and no socially accepted behavior, but he can talk. Through dream- and fairytale-like sequences (cinematography Larkin Seiple), to the tune of "There has to be some way out of here..." we watch them struggling through the wilderness, while Hank is trying to teach his pal about manners and life. Increasing amount of junk litters their path; civilization must be close!! This journey of an unhappy young man back to himself is skillfully and wittily told (writers/directors Dan Kwan and Daniel Scheinert) and well performed. (Carola A)