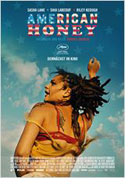 Opening 13 Oct 2016
Directed by: Andrea Arnold
Writing credits: Andrea Arnold
Principal actors: Sasha Lane, Shia LaBeouf, Riley Keough, McCaul Lombardi, Arielle Holmes
This is a road movie with a twist. Forget everything you think you know about America and its carefree, entitled youth. You are going on a rather long (162 minutes) bus ride with impoverished misfits and runaways. They are dope smoking, boozing, and partying dropouts. Meet the progeny of white trailer trash, all riding on a bus together throughout the Midwest selling magazine subscriptions door to door.
Still aboard? Boss lady Krystal (Keough, Elvis Presley's granddaughter) knows she is on to a good thing. She cajoles, cheerleads, and disciplines her magazine hustlers as they journey across the States. They seem to have found a home together, finally a place to belong. Star (Lane) joins the group after a chance meeting with charismatic top seller Jake (LaBeouf) at a Kmart. Both are smitten as Rihanna belts out "We found love in a hopeless place" in our ears. Star has nothing to lose as she was only at Kmart in the first place to salvage discarded food from the dumpster. Jake offers her the promise of love, hope, and a chance to escape.
The film would at times be depressing and dreary without its vibrant soundtrack. There are twenty-seven songs which are not just subtle background mood makers. The whole busload of America's disinherited youth sing and rap along with the songs, making their journey across the USA almost look like fun.
American Honey, a cult classic in the making, won the Prix du Jury at the 2016 Cannes Film Festival. Perhaps the judges, like us, felt like privileged voyeurs spellbound by lives so different from their own. (Pat Frickey)