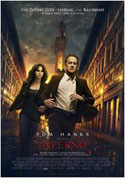 Opening 13 Oct 2016
Directed by: Ron Howard
Writing credits: Dan Brown, David Koepp
Principal actors: Tom Hanks, Felicity Jones, Irrfan Khan, Ben Foster, Ana Ularu
Professor Robert Langdon (Hanks) opens his eyes, he's disorientated and a throbbing pain radiates from his scalp. He touches the top of his head and removes a bloody bandage that has been placed there. Groggy, he scans the room and focuses on the white coat of Doctor Sienna Brooks (Jones). As his cognition slowly begins to return, Professor Langdon realizes he is in an Italian hospital, he is suffering from amnesia due to severe head trauma. Within moments of that realization, his hospital door flies open and he witnesses a nurse being shot and seemingly killed in the hallway. Vayentha (Ana Ularu), the shooter (sent by a secret organization called The Consortium), makes her way toward his bed. Bullets start flying, Langdon and Brooks escape and a chase ensues.
This race against time takes Langdon and Dr. Brooks across several countries all the while trying to unravel a massive puzzle. The solution to that puzzle would be to save the world from a massive pandemic conceived by the mad genius of Bertrand Zobrist (Foster), a billionaire whose goal is to cleanse the world of over-population. The evil plan is to release a plague in order to 'cull' the world's citizens.
Inferno, a mystery/thriller is based on the fourth of the Robert Langdon sagas (The Da Vinci Code, Lost Symbol, Angels and Demons) written by the highly acclaimed author Dan Brown, is the third film (Lost Symbol was not made into a film) in this film trilogy. The author's attention to detail and his sophisticated writing richly transfers to a complex, fast moving and a thrilling story line.
Award winning director Ron Howard uses visually lavish, exotic and intriguing film locations while he skillfully directs the rhythm and exciting pace of the story. This film has it all: an engaging plot that captivates the audience, talented actors who create dimensional characters, visual beauty of the production and a thoughtful reflection on the timely topic of world over population. This is a must see.
Tom Hanks is one of one of America's most talented and recognizable actors. His remarkable performances in films such as Forrest Gump, Cast Away, Apollo 13, and Philadelphia conjure up memories of characters that have spun tales and whisked you away with them. These characters had you rooting for them, embracing them, or outraged at the social injustice facing a person. When watching his films, you find yourself gently nudged along to follow emotional story lines that befuddle, amuse, intrigue or nurture you. A Tom Hanks film delivers something satisfying to take away with you, a yummy rich heavenly chocolate bar that need not be shared. A personal invitation to delve deep and explore those camouflaged feeling we often do not let surface. Tom Hanks' films nourish my soul. In the film Inferno he delivers, yet again, another great performance. (Abby Myers)