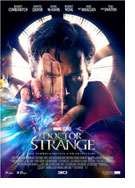 Dr. Strange (Doctor Strange)
U.S.A. 2016
Opening 27 Oct 2016
Directed by: Scott Derrickson
Writing credits: Jon Spaihts, Scott Derrickson, C. Robert Cargill, Steve Ditko
Principal actors: Benedict Cumberbatch, Chiwetel Ejiofor, Rachel McAdams, Benedict Wong, Mads Mikkelsen
Dr. Stephen Strange (Cumberbatch) is a brilliant, albeit materialistic, neurosurgeon. Dr. Strange has it all, or at least that is what he believes, until the day he is in a horrific car accident where his hands are destroyed. Unable to cope with losing everything he has worked for, he goes in search of alternative healing practices to regain his 'magic' in the operating room.
Magic he does find, but not the magical fix for his hands that he was hoping. On his quest for healing he meets the Ancient One (Tilda Swinton) who enlightens him to a world, not of this world. Dr. Strange becomes a student of the Ancient One and learns that reality as he knows it is one of many potential realities. During his discovery of the mystic arts he acquires many new skills that provide him with the ability to harnesses energy and shape reality. With this new knowledge he must protect the universe from supernatural powers that are intent on destruction.
The characters, who deliver great one liners and assist or aim to obstruct Dr Strange's new mission, include Kaecilius (Mikkelsen), who is an evil villain bent on destroying the universe, Wong (Wong), Strange's faithful man Friday, and Mordo (Ejiofor), who is neither a complete villain nor a complete friend to Strange.
Dr. Strange is a comic book series which started in the 1960s, created by Steve Ditko, also the co-creator of Spiderman. If you are a fan of Marvel Comics' other feature films, they have been producing lately, you will thoroughly enjoy this truly psychedelic, supernatural world of Dr. Strange. (Christine Riney)


Second Opinion

The Steve Ditko comic book influence sends Marvel through a portal into new realms. Renowned Dr. Stephen Strange (Cumberbatch) lives life at an accelerated pace: handsome, cocky, a photographic memory and oversized ego. The brilliant neurosurgeon has exceptionally skillful hands, and "losing" is beyond him. Following a colossal accident, Dr. Christine Palmer (McAdams) candidly elucidates his recovery prognosis. Frustrated and desperate, Pangborn's (Benjamin Bratt) spiritual journey proffers hope; Stephen heads to Nepal. Ultimately meeting the Ancient One (a unisexual Swinton) and Masters (Ejiofor, Wong), he begins studying mystic arts.
Encountering Kaecilius (Mikkelsen) and zealots prematurely, Stephen returns to the past needing help from his real-world anchor; a heart-to-heart with his mentor reveals, "… I only see your potential." Portal traveling to rally-round Hong Kong's Sanctum, the Eye of Agamotto and Cloak of Levitation assist the Doctor and Mordo. Their power lies in Strange's flexibility and Mordo's strength. Until, things get complicated. Subsequently, Strange bargains, and chooses; the Doctor assures Wong, "We'll be ready."
Director Scott Derrickson and co-writers Jon Spaihts and C. Robert Cargill's vision craft a witty, intelligently-written fantasia world of infinite universes, alternate dimensions, and new characters for Marvel Studios; Walt Disney Studios Motion Pictures distributes. They exceed expectations: strong character studies alongside a new storytelling direction. Astral-projection, portals, mirror and dark dimensions, manipulable time, mandala weapons, adulating villains, and enlightened sorcerers are essential parts.
Characteristically, Tilda Swinton slips into and commands her character, including atypical appearance. Proving themselves equally adept are Cumberbatch's balanced, temperament fluctuations, Ejio's mix of belief, naiveté, moral quandary, and Mikkelsen as antagonist and believer. Kudos to the entire cast. Production design, art direction, sets and costumes, camera, editing, music are clear-cut, laudable. Visual effects – definite M.C. Escher / Salvador Dali influence – with 3D creates a dimensional impression achieving a textural otherworldliness, distinct in the Marvel Cinematic Universe.
Dr. Strange has been in gestation since 1986. The charters roles have been modified to fit the times/determined direction for subsequent films, i.e. the Ancient One's sex is undefined (female) and not Asian, Mordor and Kaecilius are not simple evil villains, and Wong (Asian) is more than just Strange's manservant. See if you spot Stan Lee's cameo – I did; hint – pay attention to buses and an Alan Alda-like voice.
"We'll be ready." For what? Stay through all end credits for a two-fold reward. (Marinell Haegelin)