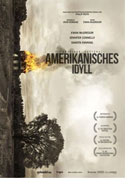 Amerikanisches Idyll (American Pastoral)
U.S.A. 2016
Opening 17 Nov 2016
Directed by: Ewan McGregor
Writing credits: John Romano, Philip Roth
Principal actors: Ewan McGregor, Jennifer Connelly, Dakota Fanning, Rupert Evans, Molly Parker
"America had won the war, the depression was over, sacrifice was over, … (the country) celebrating a moment of collective inebriation we'd never know again." American Pastoral is pure Philip Roth. His Pulitzer Prize (1997) winning novel peels back layers of psyche, 1968 Americanisms, and cultural identities that John Romano adapts into a screenplay.
At Nathan's (David Strathairn) 45th high school reunion, everything brings back memories. A trophy display case is dedicated to his best friend's older brother: Seymour "Swede" Levov (McGregor). Swede, "the greatest athlete New Jersey's ever known", and, Jewish. In flashback, we follow Swede's golden years: marring the Catholic, Dawn (Connelly); taking over his dad's (Peter Riegert) business and right-hand assistant, Vicky (Uzo Aduba); their country estate and young daughter. A man the sun smiles on. But, bumping into Jerry (Evans), Nathan hears "the big story."
Coddled, and growing up in the best of both worlds, adolescent Merry (Hannah Nordberg) is bright, and sensitive: TV news elicit, "Doesn't anybody care… have a conscious?" Because she stutters, Merry sees Dr. Sheila (Parker). At 16, though, with the advent of America's involvement in the Viet Nam war, political awareness is fanned and Merry's (Fanning) mantra is rebellion, revolution. A remark, innocently meant, ultimately takes the family off course. Seymour's life is no longer idyllic, and there is no turning back. Some families survive, and that is the difference.
Ewan McGregor's directorial debut—Phillip Noyce pulled out—is impressive, as is his portrayal of Seymour Levov. The strong cast delivers: their characters contrasts and the complexities of people virtually mired in diametrically opposed national values. Daniel B. Clancy's production design contrasts present-day with a nostalgically recreated 1968. Martin Ruhe's pastoral cinematography is measuredly edited by Melissa Kent, accompanied by Alexandre Desplat's evocative music. Juxtaposing USA post-World War II cohesion, idealism with the Vietnam War's diametrically opposed turbulence, divisiveness, the film is sedate, considerably meditative. A sad social commentary is the lack of citizenry outrage with Syria's civil war, now six years on. (Marinell Haegelin)