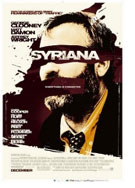 Opening 23 Feb 2006
Directed by: Stephen Gaghan
Writing credits: Stephen Gaghan
Principal actors: George Clooney, Matt Damon, Jeffrey Wright, Christopher Plummer, Amanda Peet
Syriana is a chaotic movie about the chaotic world of the Middle East. It is about the Texas oil business, about corruption, greed, fanaticism, idealism, collusion and the people caught in the maelstrom. Oh, and murder, torture, lies and deals also play their parts.
This is not a movie for people who long for a linear story line. As in his first movie, Traffic (for which he wrote the screenplay), director and writer Stephen Gaghan has four storylines going at once. It takes concentration to follow the threads, and I suggest that you see this film only in your native language because the confusion is increased by the multitude of languages – Arabic, Farsi, Pashto, and more – for which the subtitles gallop swiftly by on the bottom of the screen.
Confusing or not, it is a very good movie. George Clooney portrays a worn, cynical CIA agent. (He gained thirty pounds for the role, which I guess qualifies him these days for the Oscar nomination, but, although he does a good job as Bob Barnes, I don't see this as an Oscar-worthy performance). Matt Damon is a young energy analyst, Bryan Woodman, a rising star at a company filled with young European hot shots, and Amanda Peet is his wife, Julie. Christopher Plummer, William Hurt, Chris Cooper, and Jeffrey Wright, all excellent, play pivotal roles. Gaghan based the film loosely on Bob Baer's book – the CIA operative's tell-all memoir See No Evil. The oil companies, law firms and the countries involved are fictitious or unidentified, but the accusations levelled not only at the U.S. Government and Justice department, but at all the powers-that-be in that part of the world, including the emirs and those who recruit and train suicide bombers, are merciless and stunning. Gaghan is very even-handed – no one comes off looking really clean, except perhaps the idealistic Prince Nasir (beautifully played by Alexander Siddig) whose obvious intelligence and superior Western education have evidently not prepared him to deal with the erratic, malevolent forces of his world.
The movie is a suspenseful, geopolitical thriller and a fascinating education for a naïve, protected Westerner like me. (Adele Riepe)