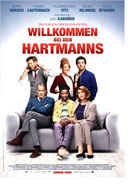 Willkommen bei den Hartmanns
Germany 2016
Opening 3 Nov 2016
Directed by: Simon Verhoeven
Writing credits: Simon Verhoeven
Principal actors: Senta Berger, Heiner Lauterbach, Palina Rojinski, Florian David Fitz, Eric Kabongo
The Hartmanns are a very normal modern German family. They are what 20 years ago may have been diagnosed as dysfunctional but today are an average European family. Mom Angelika (Berger) is a bored retired teacher who is longing for more attention from her very busy mid-life-crisis-struck doctor husband and is looking for a new challenge. The kids have left their nest and have their own modern world problems.
In the attempt to invest her time in something meaningful, Angelika decides to take in a refugee. The Hartmanns pick Diallo from Nigeria, who is four weeks away from the ruling in his asylum request. What he needs until then is a place to be in peace and to prepare himself for the decision. The only problem is: the home of the Hartmanns is anything but peaceful.
Several police operations to their home, a zebra in the garden, strippers on school property and a most hilarious stay at the psycho ward later. With the help of Diallo, the Hartmanns may just find their way to growing closer again.
This movie is able to pick up the very delicate subject of today's German worries about politics, cultural identity, xenophobia and everyday modern family issues and mix it with delight and humor. A grand movie, right at the beat of the modern German and European cultural issues of today, as well as being all entertaining and fun. (Karen Eve Malinowski O'Shaughnessy)