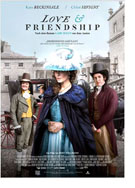 Opening 29 Dec 2016
Directed by: Whit Stillman
Writing credits: Jane Austen, Whit Stillman
Principal actors: Kate Beckinsale, Chloë Sevigny, Xavier Samuel, Emma Greenwell, Stephen Fry
Based on the unfinished juvenile work Lady Susan by Jane Austen, Love & Friendship tells the tale of the widow Lady Susan Vernon (Kate Beckinsale), a conniving, cynical, and fiercely intelligent woman who goes to stay with her in-laws while waiting for the gossip of her dalliances to fade. While she is there, she undertakes the task of finding a husband for herself and her daughter Frederica (Morfydd Clark). However, her reputation precedes her, and she finds herself put up against the wills of her in-laws.
Ah, the Regency Era, with its empire-waist dresses, strict societal rules, romance, and the quick wit of Jane Austen. Her works have inspired romance writers and readers for years, so it's no wonder that audiences continue to clamor for more works by the author whose six novels have been made into miniseries and films alike over the years. However, while Love & Friendship has the occasional bouts of wit and humor that makes Jane Austen so beloved, it is still clearly an early work which was never fully fleshed out. In fact, Austen never worked on the piece for publication, and on screen this is obvious to see. Other than Lady Susan, the rest of the cast are all rather underdeveloped. They are good, kind, virtuous, naïve – essentially the stock characters of late 18th century literature, and all of them are deeply forgettable.
Lady Susan alone escapes this fate, and it is she (and Kate Beckinsale's admirable job portraying her) which makes the film worthwhile. She is an amazingly subversive character considering the time period in which she was written. Instead of being the virtuous heroine who has little agency, Lady Susan is actually the villain of her own story. She is cruel, disdainful, witty, and unapologetic – a femme fatale who brings young men to their knees with lust and admiration. Despite all of this, she is not painted unfavorably, and somehow she ends up being the one you root for, even while better, more moral and virtuous characters, suffer for her misdeeds. She is the kind of character one rarely finds written even today, never mind in the late 18th century.
And so despite a lackluster plot and forgettable secondary characters, Love & Friendship is certainly worthwhile, if only to see the amazing Lady Susan take on the strict societal norms of her time. While it doesn't have the polish or the deep feeling that Pride & Prejudice evokes, it is interesting to spend an hour and a half catching a glimpse of the early work of an author who would later write one of the most important novels in English literature. (Rose Finlay)


Second Opinion

Lady Susan Vernon (Beckinsale) has a reputation and she is proud of it. She is a lady of style but no fortune. So she is husband-hunting for herself and her daughter Frederica (Clark). There are so many potential choices and those who meddle -- subtitles are used to introduce characters and their social positions. Lady Susan relies heavily on the advice of her gossipy American friend Alicia (Sevigny), whose husband Mr. Johnson (Stephen Fry) disapproves of the friendship, forbidding their meeting, so they see each other in secret. The hunted include the young and witty younger brother of Catherine DeCourcy Vernon, who reluctantly lets Lady Susan and Frederica stay with her. Reginald DeCourcy (Samuel) is immediately smitten with Lady Susan. Then there is the somewhat socially/conversationally challenged but extremely wealthy Sir James Martin (Tom Bennett).
As with any Jane Austen story, there are many mishaps, mistresses and misunderstandings. These serial relationships are presented in a formal yet funny style, with a bit satire and just a bit British aristocracy gone wild. Overall, a rather satisfyingly good romp! (Mary Nyiri)