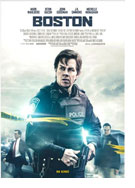 Boston (Patriots Day)
U.S.A. 2016
Opening 23 Feb 2017
Directed by: Peter Berg
Writing credits: Peter Berg, Matt Cook, Joshua Zetumer, Paul Tamasy, Eric Johnson
Principal actors: Melissa Benoist, Mark Wahlberg, Michelle Monaghan, J.K. Simmons, Kevin Bacon
Boston, Massachusetts' population is as diverse as its history. Settled in 1630, a Massacre in 1770 led to a Tea Party, igniting the American Revolution (1765 to 1783). Colonists of the Thirteen Colonies i.e. Patriots, rebelled, declaring, and winning independence from Great Britain. Patriot's Day, a public holiday, was declared in April 1894, and since 1969 is observed the third Monday. Since 1897, the Boston Marathon—worldwide the oldest, best-known marathon—is held that day, and since 1959 the Red Sox baseball team play.
Patriots Day, a biographical drama based on Casey Sherman and Dave Wedge's book, Boston Strong, tracks key players prior to, throughout, and following bombings occurring during the 2013 marathon. These are everyday folk, looking forward to and enjoying the long holiday weekend. Others have their own agenda. Wahlberg, Simmons, Bacon, Goodman, Beach, Colby, Alexander et al. convincingly portray the plethora of law enforcement and city, state dignitaries involved; in times of chaos, cool heads are needed. Jimmy O. Yang as the gutsy Chinese student Dun Meng who defied the Tsarnaev brothers, and Wolff and Melikidze as Dzhokhar and Tamerlan respectively, perceptively depicts their characters.
Director Peter Berg and teams realistically reconstruct a confluence of events – stirring, chilling, and heart warming. Graphically shot (Tobias A. Schliessler) and tautly edited (Gabriel Fleming and Colby Parker Jr. also carefully blend select archival images in the footage – pay attention during the boat scene), Trent Reznor and Atticus Ross' music potently accentuate the onscreen incidents.
Until it happens in your own backyard, no one thinks through the horrific impact: the risk taking—police run towards the chaos, humans' inherent decency, and how ostensible fanatics are oftentimes bigots. Patriots Day brings us closer to understanding that reality, aptly ending with the real key players talking on camera. 133 minutes (Marinell Haegelin)