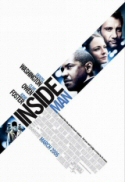 Opening 23 Mar 2006
Directed by: Spike Lee
Writing credits: Russell Gewirtz, Adam Erbacher
Principal actors: Denzel Washington, Clive Owen, Jodie Foster
Spike Lee directs Denzel Washington, Clive Owen, Jodie Foster, Christopher Plummer and Willem Dafoe in a film about a clever bank robbery.
Dalton Russell (Clive Owen – though his face is covered most of the time) is about to commit the perfect robbery. "Why?" he is asked right at the beginning of the movie. "Because I can," he answers.
That it is a perfect robbery is true, but the reason behind it is much more complex. Of course, it's also perfect because it's a movie. While some of the strategy is quite ingenious (like dressing all the hostages in painter overalls, white masks covering half their faces and dark glasses, exactly like the robbers themselves), other details do need to be overlooked for credulity.
The story is straight forward enough: a bunch of masked men and women take over a bank, including about 30 hostages. The police arrive on the scene within minutes and cordon off the whole area. Detective Keith Frazier (Denzel Washington) is brought in to negotiate and begins to establish a relationship with Russell. As time passes, however, Frazier realises that Russell's demands are not only excessive, they are totally impractical for a viable escape. It becomes clear that Russell is stalling. What is his purpose? Madaline White (Jodie Foster) is sent in by the owner of the bank (played by Christopher Plummer) to further negotiate. She discovers a whole new dimension to the robbery, but is not going to share it with the very frustrated Frazier; but the viewer does begin to get an inkling. Finally, Russell provokes a showdown and the SWAT team moves in. All the hostages are freed; but how, among close to 40 people all dressed the same, to know who truly was a hostage and who is just posing? In the end, what's more, no money appears to have been taken; so has a crime really been committed? This is the question the chief of police asks Frazier, suggesting he put his energy into other, more important cases. Frazier can not let go and continues to investigate, which makes sense because, as the viewer knows, Russell committed the perfect robbery. The final question is, what did he rob and how did he get away with it?
Inside Man is a fun movie, in spite of the questionable holes – small, but holes none the less – in the story. One has to wonder about the purpose of Jodie Foster in the movie; it is not crucial and, if anything, adds further confusion. On the other hand, it also leads to the viewer getting a background idea into what is going on, giving them an advantage over Washington's character most of the time. Then again, was that necessary? Whatever, it's an entertaining couple of hours, with actors who practise their craft well. (Osanna Vaughn)