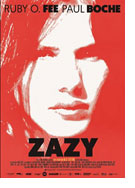 Opening 30 Mar 2017
Directed by: Matthias X. Oberg
Writing credits: Matthias X. Oberg
Principal actors: Ruby O. Fee, Paul Boche, Petra van de Voort, Philippe Brenninkmeyer
Besides having sex and fun with her boyfriend Tomek (Paul Boche), 18-year old Zazy (Ruby O. Fee) dreams of becoming a television star instead of working as seamstress in the Italian province. She witnesses how her boss is flirting with a wealthy German lady customer, suggesting a mutual visit to the mountain chapel. The next morning the boutique is closed and her boss is found dead on the bottom of a cliff. An idea forms in Zazy's head.
Remembering the dress ordered by the elegant Marianne (Petra van de Voort), she delivers it to her hotel where she is holidaying with the two children. Her husband (Philippe Brenninkmeyer) is a well-known TV presenter. Zazy casually, but slyly, refers to the excursion with her boss: "I am sure you don't want the police to know about it to avoid any compromising publicity!" She promises to keep this information to herself, hoping that this could be her ticket to the glamorous world of television. As she has no longer a job Marianne takes her home where she meets husband Maximilian. The pretty girl is promising to do any kind of work, starting by grooming Mariannes' horses – always focusing on her real goal. Boyfriend Tomek has secretly moved in with her. His main occupation is playing with his mini drone or enjoying their frequent love-making. When he gets bored and impatient that Zazy has not yet made it "to the top" he is takes matters into his own hands.
What follows is a series of open blackmailing by the young couple, their demands becoming more brutal and sadistic. Ambitious Zazy is almost making it into the desired TV show when Tomek becomes a burden. Sweet Zazy has developed into a self-centered, greedy woman and is literally "getting away with murder".
This erotic thriller is written and directed by Matthias X. Oberg (The Stratosphere Girl) showing how a naive girl becomes a femme fatale. Is it worth the high price? Ruby O. Fee and Paul Boche are perfectly catching the changing mood of the story with their youthful acting. (Birgit Schrumpf)


Second Opinion

William March's The Bad Seed, published in 1954 to critical acclaim, accentuated the nature vs. nurture debate apropos juvenile delinquency's current increase. Its commercial success included a long-running Broadway play (1954) and Oscar® nominated film (1956). That an eight-year-old could be a sociopath aroused fascinated repugnance. Flash-forward 60plus-years and to a protagonist 12-years older, give or take: this psychological thriller is equally provocative, perceptive, and compelling.
A seamstress trainee, Zazy (Fee) quickly turns a tragedy to her advantage at the expense of a wealthy customer. Marianna's (Hultgren) judgment is clouded by a guilty conscience (of what? we wonder). She agrees to help Zazy by means of her husband's (Brenninkmeyer) media entertainment connections. Both mistakenly believe in Zazy's guilelessness; neither is prepared for Tomek (Boche), Zazy's demanding boyfriend. Or, the consequences of one ill-conceived lie.
Writer-director Matthias X. Oberg deftly moves from an idyllic Italian Alps village to intensive urbanity. Oberg manipulates situational tensions, trepidations, and deviousness in step with each setting. The cast responds superbly; specifically, as Tomek, Boche's vileness begs for chastisement, while Fee—as Zazy she carries the film—elicits mixed feelings of sympathy, disgust, approval. Ralf M. Mendle's well-framed cinematography probes—B-roll shots are striking, that Patrik Metzger impressively edits. Oberg's gem prods audiences to: Reflect upon their assumptions concerning sociopath personalities, keep an eye on Ruby O. and Oberg, and read William March's book. (Marinell Haegelin)