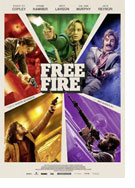 Opening 6 Apr 2017
Directed by: Ben Wheatley
Writing credits: Amy Jump, Ben Wheatley
Principal actors: Sharlto Copley, Brie Larson, Armie Hammer, Enzo Cilenti, Sam Riley
Boston. Nighttime. A seemingly abandoned warehouse. A deal is gonna' go down. International clients—big deal in 1978. Locals climbing to the big time. Stevo (Riley) and Bernie (Cilenti) are attending; running late and Stevo runnin' at the mouth about last night. Waiting, Justine (Larson) assures Frank (Michael Smiley) and Chris (Cilian Murphy), "(I) just want everyone to be happy." "Step into my office," Ord (Hammer) invites after acquaintances are made. Vernon (Copley), abrasive, and sensible Martin (Babou Ceesay) got the goods. One thing leads to another. One insult, one gun, tit for tat. Tempers flare. Howie (Patrick Bergin) joins the party. Geez, you know about boys and their toys. Still, who says gals don't play that game too.
What is clever about Amy Jump and Ben Wheatley's screenplay is mixing wisecracks, humor, and truisms that director Wheatley carries over into the action, and the actors' delivery. Speaking of which, these guys and gal are pros, passionately carrying the action forward. Fast—had to have been choreographed. Laurie Rose does not miss a shot, shooting the action. Song choices, and Geoff Barrow and Ben Salisbury's music match the times, the film's disposition—wonderful percussions—that Jump and Wheatley tightly shape.
Suddenly, the party's over and we ain't even left the warehouse.
That. Is what makes Free Fire impressive. Definitely a guy's film. But, who's to say gals won't like it too. (Marinell Haegelin)