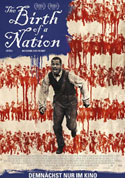 The Birth of a Nation - Aufstand zur Freiheit (The Birth of a Nation)
U.S.A. 2016
Opening 13 Apr 2017
Directed by: Nate Parker
Writing credits: Nate Parker, Jean McGianni Celestin
Principal actors: Nate Parker, Penelope Ann Miller, Armie Hammer, Aja Naomi King, Aunjanue Ellis
Novice director-actor-producer Nate Parker co-wrote the screenplay with college friend Jean McGianni Celestin basing it on the life of the enslaved abolitionist and rebel Nat Turner. It follows the fate of Africans to slavery in antebellum Virginia, USA in the early 1800s. Leaving the cinema, the film's ambiguity raises more questions than it answers.
Mistress Elizabeth (Miller) moves the gifted slave boy into the big house to learn his letters, whereby he becomes friends with the Turner children. As adults, now field hand Nat (Parker) is on good terms with Samuel (Hammer). Driving Sam about the county on business Nat first spots his Cherry (King); their trips extend after Reverend Walthall (Mark Boone Junior) proposes Nat's preaching talents might financially benefit the strapped Sam. Considered prophetic by blacks and whites, and convinced he has supernatural powers, Nat interprets a series of personal and natural events as clearly showing the time is at hand. Nat and trusted friends rouse a slave army to "cut the head from the serpent" without a follow-through plan. Isaiah (Roger Guenveur Smith) warns them about "strange fruit" (Nina Simon's version in the film) to no avail. Plantation to plantation, their rebellion culminates in Jerusalem.
When viewed as chapters, the disassociations are less noticeable. Overreaching in their zealousness, Parker and Celestin's interpretation selectively chooses historical facts, while hinting at others, squandering a good (historical) story in the telling. Nat Turner was a formidable personality, and the magnitude of his story deserved unconventional telling with more attention paid to dialogue, pacing, and continuity, sans schmaltz, especially with such a solid cast. Directorial immaturity is evident in Elliot Davis' uninspired cinematography that ignores the environment's attributes, just as Henry Jackman's music lacks graceful fluidity. Only Steven Rosenblum's editing is notable, especially his matched cuts, fast-forwarding the (too long) story.
Even the identical title—Parker admits reclaiming the title to re-purpose it—is hard to justify after seeing this film. Triumphantly received, D.W. Griffith's 1915 feature was masterful in advancing filmmaking techniques, just as Nate Parker's Sundance Film Festival 2016 debut garnered awards and a sweet Fox Searchlight distributing contract. Criticism centered on Griffith's film revitalizing the Ku Klux Klan that southern states founded in reaction to consequences of the Civil War. Parker's self-centered film is disquieting: it whitewashes Nat's character and the slaves' retributive rampage, adding vague allegorical allusions; the 1831rebellion undoubtedly affected the lead-up to the 1861 Civil War. Still, The Birth of a Nation raises questions worth exploring, and will generate discussions making it a worthwhile watch. (Marinell Haegelin)