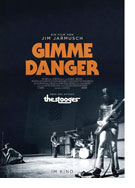 Opening 27 Apr 2017
Directed by: Jim Jarmusch
Writing credits: Jim Jarmusch
Principal actors: Iggy Pop, Mike Watt, Ron Asheton, James Williamson, Scott Asheton
Consummate filmmaker Jim Jarmusch puts legendary front man Iggy Pop under his documentarian lens in Gimme Danger. In an undisclosed location, Jim Osterbeck (Pop's pseudonym) explains the punk pioneers connection with unforgettable vaudeville cum slapstick comedians, the Three Stooges—to know them is to love 'em—that led the band to choose the name, Stooges.
Moving backward/forward on his yarn's timeline, Pop talks straight with Jarmusch. Raucous behavior and innovative music built their fan base that dwindled as their antics and recreational selections increased. Influences included: other music/musicians, e.g. Four Tops; their personal backgrounds; civic/political events; how the group collaborated on their songs; "sizzlin'" festivals and freaky foreign gigs; the affect fame had on each of them, and shedding the bad boys image. Pop uses comparisons that are creative and unusual; Pop's sentimental streak is manifested by where he is interviewed, just as his life lessons are revealing.
Obviously, Jarmusch spent time researching and developing Gimme Danger, since the result coherently covers so much ground. Special kudos to Affonso Gonçalves and Adam Kurnitz's carefully concise editing of the complex timeline, and the archivist(s) whose diverse source material is prudently sprinkled throughout covering decades of the Stooges—band and comedians, and societal transformations. Adding visual and auditive pleasure is James Kerr's commanding music and animation, and Tom Krueger's attentive camerawork. But, it is the man himself who dominates the screen and our imaginations. "I just want to be (i.e. without other peoples labels)." 108 minutes (Marinell Haegelin)


Second Opinion

It does not come as a surprise that director Jim Jarmusch decided to do a documentary on Iggy Pop, especially since they have been friends since the 1990s. Pop has long been an icon in the world of experimental music, which started way back in the 1960s when he started playing drums in high school and decided to move to Chicago and started playing the blues. During this time he went to see The Doors, who had just had the hit "Light My Fire," and that is exactly what it did to Iggy Pop. After that there was no stopping Pop and his band The Psychedelic Stooges. It wasn't before long that he was known for radical stage dives and unpredictable stage antics. His band's music ranged from Garage Rock, Blues to Hard Core Punk.
This documentary attempts to dive beneath the surface of Iggy Pop's lyrics and describes his own ideas as well as looking at the artists around him including the Velvet Underground Movement where he met many people such as David Bowie, John Cale, and many others. This documentary covers ground in this radical and creative time period like no other. Jarmusch can be proud of exposing a portrait of a band which paved new trails although it suffered a lot through alcoholism and drugs. (Shelly Schoeneshoefer)