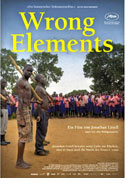 Opening 27 Apr 2017
Directed by: Jonathan Littell
Writing credits:

Survivors of Uganda's 1989 rebel movement, The Lord's Resistance Army (LRA), disclose emotional repercussions from the army's abductions, the aftermath, and the effect on their mindsets. Former soldiers, still friends, and some "wife's" share experiences: how/when they were abducted (nine to13-years), villages/family members reactions (helpless, hopeless), and life in the bush – "you kill anyone you like … not happy with someone, kill." Returning to past campgrounds or massacre sites, all admit memories are painful. Of over 60,000 kidnapped, less than half outlived the LRA to seek amnesty.
Aggravating Uganda's political unrest, spiritually obsessed Joseph Kony's LRA movement fought central government forces, and UPDF (Uganda People's Defense Force), leaving a wake of heartbreak and anguish. At thirteen, Nighty was first Kony's bride; melancholic Lapisa Evelyn is sure an evil spirit dwells in her. Women equaled objects; men—victims cum predators—enjoyed killing freely, plundering. The disconnect is Geofrey and Michael, Boda Boda taxi drivers, laughing about or reenacting tactical moves; a sense of wistfulness for lost power pervades.
Franco-American novelist turned director Jonathan Littell boldly pinpoints specific areas in Uganda and Sudan, and the perpetrators. Black cards fill in details of Kony's LRA rise, and the movement now: children's kidnappings, maligning, and indoctrinating. It evokes Johnny Mad Dog (Filmfest Hamburg, 2008), a brutal, sadistic feature people walked out of at public screenings.
Missing here is discernment – from Littell and editor Marie-Hélène Dozo. Littell's questions are leading; too many conversations/interviews portend digression. Irrelevant nature shots inserted throughout confuse; LRA ex-commander Dominic Ongwen's trial is superfluous. Informative are lifestyle shots, archival material. The powerful data would naturally metamorphose into forceful societal commentary, minus thirty-forty minutes. Just as the protagonists are trying to reestablish normalcy in their lives, laypeople must soul-search their consciences to forgive these wrongful elements. (Marinell Haegelin)