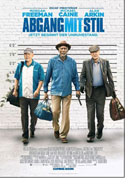 Abgang mit Stil (Going in Style)
U.S.A. 2017
Opening 13 Apr 2017
Directed by: Zach Braff
Writing credits: Theodore Melfi, Edward Cannon
Principal actors: Joey King, Ann-Margret , Morgan Freeman, Michael Caine, Alan Arkin
Going in Style is smart, clever, and funny with a storyline that changes directions on a dime the protagonists glide through. Based on Edward Cannon's short story, Stepping Out, Zach Braff (Wish I Was Here, Garden State) updates the 1979 film with his quirky interpretation.
Three oldsters acknowledge their pensions are shrinking as costs rise: "When did a cuppa coffee start costing two dollars?" Yet, the proverbial screw comes from where they least expect. Each has obligations of one form or another. Joe's (Caine) surefire idea is not an easy sell to Willie (Freeman) and Albert (Arkin)… initially. A trial run proves only that they might be older and wiser, but this is outside their realm of expertise. They only want their fair share. A low life (Peter Serafinowicz) points them to a pro (John Ortiz) that takes them through steps paramount for success – again, and again. Mutual bolstering and with nothing to loose, they have a lovely, rejuvenating day. Until the Fed (Matt Dillon) points out it only takes one stupid mistake.
The wit and wisdoms in Theodore Melfi's (Hidden Figures) screenplay are stupendous – he must have hung out with seniors while writing. Freeman, Arkin and Caine, a trio of pros, timing and facial expressions convey magnitudes about each character's personality, the complexities of long-standing friendships and spirited old age. Supporting actors are captivating: Josh Pais, Christopher Lloyd, and Siobhan Fallon Hogan's droll interpretations shine. Rodney Charters' expansive cinematography choices plus Rob Simonsen's capricious music combine with selective songs that lead-in/-out of wonderfully chock-a-block editing from Myron I. Kerstein—his split screens are striking.
Going in Style will surely warm the cockles of (one's) heart. Its poignancy is balanced by laugh-out-loud moments watching the antics of our protagonists. "It's a culture's duty to take care of its elderly," just as everyone deserves a piece of the pie – get yours by seeing this film. You can take that to the bank, because, unbelievable as it sounds, this film makes growing old look like great fun. (Marinell Haegelin)