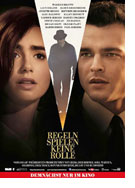 Regeln Spielen Keine Rolle (Rules Don't Apply)
U.S.A. 2016
Opening 4 May 2017
Directed by: Warren Beatty
Writing credits: Warren Beatty, Bo Goldman
Principal actors: Lily Collins, Haley Bennett, Taissa Farmiga, Candice Bergen, Martin Sheen
Warren Beatty clearly kept busy during his lengthy hiatus: he and Bo Goldman's idea spawned Rules Don't Apply. Capturing the decade's mindset, Beatty directed-produced and wrote the screenplay. Beatty replicates the paragon of success Howard Hughes' controlling, illusive personality. Lily Collins (Marla) with Alden Ehrenreich's (Frank) winsomely portrays their characters naiveté yet dogged determination, balanced by their comic/dramatic performances. Matthew Broderick (bit of a schemer), Annette Bening (Marla's mama), Candice Bergen (personal secretary) and Martin Sheen (indispensable executive) are the core cast in this eccentrically funny, dramatically nimble film. A cross section of stellar actors dominates the screen, when Beatty takes advantage of their talent.
1964: Hollywood: waiting on tenterhooks for the phone call are reporters, and Hughes' core staff in Mexico. Cut to 1958, and Hollywood's greenhorns – young actresses, drivers, wannabe's and seasoned players. Freshly arrived, the pious Mabry's are gobsmacked by their surroundings, as is their driver. Eventually, everybody meets, breaking a few rules along the way. Ignoring personal feelings, Marla and Frank focus on results. So does Hughes, indifferent to the means to any end. He takes to Marla, who matches his moxie. Events transpire, life continues, culminating on this day in 1964…
Nostalgia is palpable: Nancy Haigh's sets, Jeannine Oppewall's production design, Albert Wolsky's costumes, Caleb Deschanel's atmospheric photography, and Eddie Arkin and Lorraine Feather's original song, "The Rules Don't Apply," and the unmistakable period tunes. Robin Gonsalves, Leslie Jones, Brian Scofield, Billy Weber edited; "too many cooks spoil the broth" may be applicable, since there are rough patches throughout.
Quirky jokes, spot-on timing, bizarre situations, and some twists with dashes of seriousness combine for a fresh, fun watch. Well-matched contemporary footage with archival add to visual delights. Most importantly, no rules apply when it comes to leaving a movie in a good mood with a smile on your face. (Marinell Haegelin)