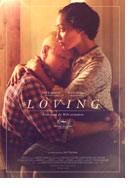 Opening 15 Jun 2017
Directed by: Jeff Nichols
Writing credits: Jeff Nichols
Principal actors: Ruth Negga, Joel Edgerton, Alano Miller, Sharon Blackwood, Marton Csokas
Jeff Nichols' screenplay is about human decency, the lack thereof, and its impact on families and communities. An influence was Nancy Buirski's documentary, The Loving Story (2011) about the landmark 1967 U.S. Supreme Court anti-miscegenation decision. With understated integrity, Nichols directs a stellar cast whose delivery is thoughtful and with an intimacy that is mesmerizing, powerful.
Mildred (Negga) and Richard (Edgerton) marry, wanting nothing more than to harmoniously spend their lives together. Her family is supportive (Terri Abney, Christopher Mann, Winter-Lee Holland), Richard's mom (Blackwood) noncommittal, and Raymond (Miller) remains a loyal friend. But, not everyone is colorblind: Sheriff Brooks (Csokas), Judge Bazile (Jensen), and Frank Beazley (Bill Camp) to name a few. Forced to urban life, seasons passing turn into years. Until Miss Laura (Ward-Hammond) puts a bee in Mildred's bonnet that she takes to heart by writing a letter to the U.S. Attorney General. The rest, as they say, is history.
Phyl Newbeck's book, Virginia Hasn't Always Been for Lovers: Interracial Marriage Bans and the Case of Richard and Mildred Loving (2004) also guided Nichols. Buirski's documentary footage shot by Hope Ryden, and Life Magazine's freelance photographer Grey Villet's (Shannon) photo essay—we see an original photo before end credits—provided Edgerton and Negga priceless material to study. Edgerton's Richard: stoic, stubborn, and taciturn whose facial expressions betray inner feelings; Negga's Mildred: calm, caring, folksy, and resolute drawing strength from Richard. The Loving's daughter Peggy, as consultant to the production, was impressed with the actors' depictions.
The production committed to historical faithfulness, filming at pertinent Virginia locations. Panavision specially built an anamorphic-type lens cinematographer Adam Stone used to achieve depth, and textural perspectives. Production design (Chad Keith) and art direction (Jonathan Guggenheim), costumes (Erin Benach), sets (Adam Willis) adhered to authentic replication. David Wingo's soundtrack shunned sentimentality for timelessness – minimal, with strokes of tension and graceful dignity. Editor Julie Monroe molds chronological coherency enhanced by Will Files and Brandon Proctor's sound design.
Instrumental to the case were ACLU (American Civil Liberties Union) attorneys Phil Hirschkop (Bass) and Bernie Cohen's (Kroll) dedication and perseverance. Richard offered, "You can tell the judge I love my wife." The letter Mildred wrote to Robert Kennedy, and the Loving's deep love changed the U.S. Constitution, just as their story in an inspiration that provides perpetual hope. 124 minutes (Marinell Haegelin) (Marinell Haegelin)