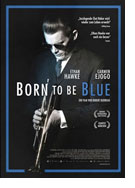 Opening 8 Jun 2017
Directed by: Robert Budreau
Writing credits: Robert Budreau
Principal actors: Ethan Hawke, Carmen Ejogo, Callum Keith Rennie, Tony Nappo, Kedar Brown
Writer-director Robert Budreau envisages jazz musician Chet Baker's life during the 1950s when his distinctive playing and eerie vocals made him a legend, and the difficult 1960s. Already washed up, Baker (Hawke) gets a 'Hollywood second-chance' film offer. His costar (Ejogo) puts him through his paces; subsequently Jane sticks by his side following a severe assault targeting the trumpeter's embouchure, i.e. mouth. She inspires the helpless, hampered addict's reach for sobriety, a comeback. Again. Not so forgiving are his musicianly parents (Stephen McHattie, Janet-Laine Green). Skeptical is Pacific Jazz Records producer Dick Bock (Rennie); unimpressed are Miles Davis (Brown), and Dizzy Gillespie (Hanchard). But, Chetty practices and works so hard he even surprises the good Officer Reid (Nappo). As we know, in real life the rest is history.
The prolific Ethan Hawke inhabits the character with a hypnotic fierceness and finesse proportional to the troubled trumpeter, flugelhornist, and vocalist. The West coaster gained notice, praise, and notoriety—drug dependency—on both coasts, albeit not by Baker's idol. Canadian David Braid arranged or composed songs the adroit Hawke sings; Hawke studied the film's trumpeter Kevin Turcotte's posturing to mime during jazz scenes. Surrounded by music and singing stimulated the casts' creativity onset. Ejogo's delivery (as Jane/Elaine – a commingling of Baker's many women) is nuanced, perceptive just as Rennie, McHattie, and Green's are balanced. Deftly moving between the present and B/W flashbacks is Steve Cosens's camerawork tonality that David Freeman's moderate editing compliments.
Returning to Europe in the 1970s, Baker lived there almost year round before his untimely 1988 death in Amsterdam. He was prolific: well-received small label recordings; performances with his quartet, trio, and Elvis Costello; stage and film work; touring with Stan Getz, and a Japanese tour whereby an album was released posthumously. A bittersweet probe into early successes, self-deprecation, and addiction to drugs and for approval, Born to be Blue guarantees hitting a note with audiences. Its sincere approach defies stereotype: "Hello Dizzy, hello, Miles. There's a little white cat on the east coast that's gonna' eat you up." (Marinell Haegelin) (Marinell Haegelin)


Second Opinion

A young man receives an interesting proposal while in jail: to play himself in a film that traces the rise and fall of the legendary jazz-trumpeter he once was. The young man is the American Chet Baker, the producer who offers him the part, Dino de Laurentiis. Though in reality this project never got off the ground, director Robert Budreau used the idea in his —part biopic-al part fictional — film to create a portrait of the man that was celebrated in the 1950s and '60s as the "James Dean of Jazz".
Ethan Hawke gives a brilliant, absolutely convincing performance as this talented and charismatic but also extremely insecure and self-destructive artist, who is fighting for his comeback after he hit rock bottom. The one that believes in him when nobody else does, is Jane (a fine performance by Carmen Ejogo), a fictional character that was inspired by several women in Baker's life. (Carola A)