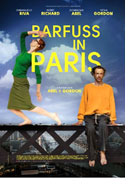 Barfuss in Paris (Lost in Paris, Paris Pieds nus)
France/Belgium 2016
Opening 7 Sep 2017
Directed by: Dominique Abel, Fiona Gordon
Writing credits: Dominique Abel, Fiona Gordon
Principal actors: Fiona Gordon, Dominique Abel, Emmanuelle Riva, Pierre Richard
This film is a comedic and artistic gem. From the staging -- because yes, within the first three minutes, you feel as if you're watching a hilarious theater piece that you've been lucky enough to have filmed up close -- to the unexpected interactions between the actors (and coffins), Barfuss in Paris will have you laughing out loud and entranced in the innocent joy of finding that missing piece in life.
Right from the beginning, vibrant colors confront you in the arctic library where bright, yellow walls are quilted with contrasting colorful books, snow-covered windowpanes, and a ginger-haired, bespectacled librarian sitting at her desk. The eye-popping colors (the green of Fiona's, played by Fiona Gordon, quirky sweater-pencil skirt ensemble, the biting yellow of her lost top, and the Canadian red of her backpack) and the slapstick-like romping along (and in!) the Seine, as well as the shocking color arrays dans le Metro, let you know you're seeing theatrical art in motion.
The simple storyline follows Fiona's long-held dream to live in Paris as she is summoned by her aging, favorite aunt for help, and she arrives in the metropolis and quickly loses her backpack containing her passport, cell phone, money and all her belongings. She soon runs into Dom (Dominique Abel), a homeless man living on the banks of the Seine, who had found (and happily appropriates) her backpack -- Mapleleaf flag and all! Since Fiona doesn't speak much French, the script is an easy mix of English and French. The banter and slapstick that follow are the result of the mostly autobiographical beginning that has lead to a 25-year artistic partnership between Gordon and Abel.
The late Emmanuelle Riva, in one of her last roles, is fabulous and lovable as Aunt Martha, who is hell-bent on not moving into a nursing home after 48 years of independent living in Paris. The scene with an impromptu elegy delivered by Dom is one of the funnier moments. Not to mention, the whimsical soft-shoe number featuring Aunt Martha and her once-love interest played by Pierre Richard ingeniously shot on a park bench (and mostly likely using body doubles) is a sweet trip down memory lane for the characters and audience alike, and a creative addition to story.
Although, in fleeting moments, the story and the script lag a bit, the duo Gordon and Abel will be known for years to come as a talented couple who've revived the art of clowning and slapstick in film. (Ericka Seifried)