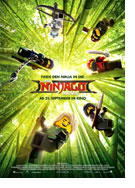 Opening 21 Sep 2017
Directed by: Charlie Bean, Paul Fisher
Writing credits: Bob Logan, Paul Fisher
Principal actors: Jackie Chan, Dave Franco, Fred Armisen, Kumail Nanjiani, Michael Pena
The newest addition to the Lego film series follows the action-packed story of a high school-age Lloyd Garmadon (Franco), who is increasingly frustrated by being ostracized by the entire NINJAGO city and grappling with the contentious relationship with his estranged, biological father, Warlord Garmadon (Justin Theroux) -- who happens to be the "Worst Guy Ever". Under the martial arts guidance of Master Wu (Chan), Lloyd, with the help of a brave band of anonymous ninja warriors, is called into action to defend the city from Lord Garmadon's daily attacks -- until the day that Lord Garmadon defeats the skillful team, and they are forced to search for the ultimate weapon to crush the evil warlord once and for all. The ninjas soon find out that they will only be victorious if they dig deep inside themselves and learn to masterfully use their given elements (water, earth, ice, fire, electricity and green). The answer is to "find the ninja within ya", as Master Wu advises.
The film is a creative mix of live action, flashy montages of 70s fighting videos, kitschy pop art collages, and stop-motion animation. It opens with Jackie Chan as an antique dealer who meets a young visitor to his shop who's the victim of bullying at school. He tells the tale of Lloyd that moves the story into the signature stop-motion action. The storyline seems to be straightforward to fans, but many elements like quick fighting scenes, rapidly changing Lego constructions and some of the text may be hard to follow for newcomers (read: people older than 12).
There is a playful innocence throughout, including the feline menace, Meowtha -- a real-live cat who follows and attacks shiny things destroying everything within its path in NINJAGO, so it's great entertainment for youthful audiences. Looking deep within the story and beyond the fight sequences, wisecracking banter, and phenomenal Lego building creativity is a somewhat touching story about father-son relationships (cue Jim Croce song!) and how perseverance pays off.
The movie did not live up to my expectations from the hype, but then again it wasn't made expressly for me. A refreshing reminder that Hollywood still makes movies that are age-appropriate and geared to young moviegoers everywhere. The Lego Ninjago Movie will also play in 3D, although this review is based on the 2D version. (Youth reviewers: *****) (Ericka Seifried)