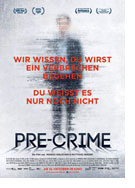 Opening 12 Oct 2017
Directed by: Matthias Heeder, Monika Heilscher
Writing credits: Matthias Heeder, Monika Heilscher

Pre-Crime is an engaging documentary that leaves you viscerally feeling either: the intrusion of the 21st century technological world around you, or feeling secure, knowing that "criminals" are being identified and dealt with preventively. The "future" is already present: right now. This is the "securitization of our society."
The documentary title Pre-crime comes from the movie, Minority Report (based on a story written by novelist Philip Dick). Pre-crime is a prediction made for an individual for something they have not done yet, but are predicted to do. In this well-researched documentary, filmmakers Matthias Heeder and Monika Heilscher have written and directed a film with a global perspective of challenges police and governments are facing in keeping citizens safe.
The police as well as government agencies use software programs where a citizen's data is mined (think; Facebook profiles, IP addresses, credit card applications, Twitter accounts, personal email, bookmarks, mental health records, arrest records, foreclosures, etc.…). Once collected it is merged into mathematical algorithms that are analyzed and imported into software programs. This software creates predictions of individuals' actions while CCTV's are watching and recording us 24/7.
The Chicago police and a Chicago university research department's program SSL (Strategic Subject List) create lists (using massive databases) where it is determined whom to watch and identify individuals who could possibly have a tendency toward violence or have a history of violence.
The United Kingdom's program, Pred Pol (Predictive Policing) is being used as a patrol strategy to predict high-risk areas and to carry out duties in an operationally ready response mode. Using Pred Pol, the Kent Police Department has been able to focus on targeted areas where there is organized crime, slavery and sexual crimes and efficiently refine police outcomes thus producing better policing.
Pre-Crime is informative as well as entertaining and raises questions that society needs to be asking; under what circumstances is it reasonable to take advantage of personal data and how data is sold and used? (Abby Myers)