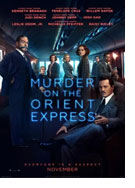 Mord im Orient Express (Murder on the Orient Express)
Malta/U.S.A. 2017
Opening 9 Nov 2017
Directed by: Kenneth Branagh
Writing credits: Michael Green, Agatha Christie
Principal actors: Kenneth Branagh, Penélope Cruz, Willem Dafoe, Daisy Ridley, Leslie Odom Jr.
Agatha Christie's first published whodunit in 1920 featured Hercule Poirot, and ever since she kept readers guessing until the last chapter. Written in Istanbul, Turkey in 1934, Murder on the Orient Express—she traveled in Orient Express to Eurasia in 1928—has three previous film adaptations. Yet, Kenneth Branagh's deft directorial hand, and Michael Green's adaptation besides a devilishly good cast serves up an inviting adventure for audiences.
Desperately tired, Poirot needs a holiday. Instead, he agrees to proceed from Jerusalem to England posthaste. A crime's solving depends on the "most famous detective in the world." Enroute, aboard the fully booked Orient Express a wealthy American businessman is found dead. Murdered. The train company's assistant director is onboard and beseeches his friend to help; feeling somewhat responsible, Poirot finally agrees. During interviews with the many passengers, Poirot is fully confident he is hearing prevarications and falsehoods. And, the murderer is still amongst them. Nature steps in, providing opportune occasion for Poirot's "little gray cells" to work.
Branagh's interpretation—includes Poirot's famous moustache—of the Belgian detective's pernickety, dandified, fastidious personality works somehow. The fantastic cast, including supporting actors, embodies each characters distinctive qualities. Visually, the film is as sumptuous as a 16th century Oriental rug thanks to admirable production design, sets and costumes design. Cinematographer Haris Zambarloukos' angles, movement, and perspectives are unexpected, appreciated: Entering a tunnel in arid, sun-bleached landscape the train emerges among majestic, snow-covered mountains. Patrick Doyle's music wraps the package nicely.
Branagh is attracted to the idea of a sequel—good news. However, Poirot's prolific career includes solving crimes in three and thirty books, a play, and fifty plus short stories. Rather than returning to Egypt, hopefully future collaborations delve into solving Poirot's lesser-known puzzling cases. (Marinell Haegelin)