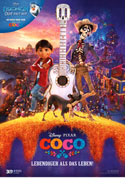 Coco - Lebendiger als das Leben (Coco)
U.S.A. 2017
Opening 30 Nov 2017
Directed by: Lee Unkrich, Adrian Molina
Writing credits: Lee Unkrich, Jason Katz, Matthew Aldrich, Adrian Molina
Principal actors: Anthony Gonzalez, Gael García Bernal, Benjamin Bratt, Alanna Ubach, Renee Victor
Disney's newest family adventure takes its audience to Mexico on the very "Día de los Muertos" - the day of the dead. The Hispanic custom of honoring the dead with music, colorful decorations, offerings and setting up their pictures at the "Ofrendas" is a well-known tradition familiar to people all over the world.
Miguel (Anthony Gonzalez) is 12 years old, and he loves music as well as the legendary musician Ernesto de la Cruz. Unfortunately, his family might be the only one in Mexico which despises music. Since his great-grandfather left his family for music, any instrument, tune or singing is forbidden in the family. If only Miguel wasn't convinced that music was his true destiny, and his amazement for the legendary musician Ernesto De la Cruz.
After a heated fight with his family about him playing the guitar, unfortunate circumstances place Miguel into the world of the dead. He runs into his own ancestors who try to help him find a way back to the living. Unfortunately, the only way for him to return to his world is to give up music forever. He just cannot accept that and is convinced there must be another way. On his journey to find another family member who can let him cross the worlds, he finds new friends and experiences fantastic adventures in the colorful world of the long gone. Miguel is on the run, as the entire world of the dead is on the look-out for the living boy. In the end he must realize that people can be deceived by false impressions, and that the ones who truly love us will never give up. Family is everything and only with the love and trust of one another do you get what you are longing for.
This animated movie made me feel all warm inside, shed one or two tears, and just like any good Disney movie should, I was convinced that I could be a better person from now on. Leaving the theatre, I promised myself to change my ways and honor my family and heritage more -- the beauty of Disney!
Coco is the best original movie which is not a sequel that Disney has brought out in a long time and can stand next to any Frozen, Finding Nemo or Toy Story without shame. A must-see for everyone. (Karen Eve Malinowski O'Shaughnessy)