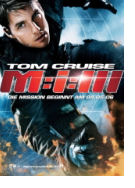 Mission: Impossible III
U.S.A. 2006
Opening 4 May 2006
Directed by: J.J. Abrams
Writing credits: Alex Kurtzman, Roberto Orci
Principal actors: Tom Cruise, Ving Rhames, Keri Russell, Philip Seymour Hoffman
Tom Cruise returns as agent Ethan Hunt in a further instalment in the Mission Impossible series. Bad guy Owen Davian, is played by this year's Academy Award winner Philip Seymour Hoffman. The movie is directed by J.J.Abrams, with a script by Alex Kurtzman and Roberto Orci.
Ethan Hunt is in love and has just become engaged. Of course, his girlfriend Julia (Michelle Monaghan) has no idea about his real professional background. He could get away with that because in recent years he's been more involved in training agents than working in the field. That all changes when his star student, Lindsey (Keri Russell), is caught during an operation against Owen Davian, a merciless and cruel dealer in arms, secret weapons and God knows what else. Hunt takes on the mission to rescue Lindsey, because he feels personally responsible; but the exercise soon escalates into a non-stop action fight against time, that puts any plans he may have for the white-picketed family home life in serious jeopardy.
As far as action movies go, it can't get much better than M:i:III. The story, however, is one of those ones with enough questionable red herrings and cross information to leave the viewer confused and not quite sure what it was all about. What we do know is that Ethan Hunt is, once again, saving the world; against what is unclear, we only get to know that its code name is "Rabbit Foot".
Even more than the previous two, Mission Impossible III moves away from the original flavour of the TV series. Everything focuses around Hunt and the roles of the rest of the team are more watered down than ever. Even so, as mentioned, if it's action you want, this is definitely worth seeing. (Osanna Vaughn)