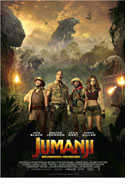 Jumanji: Willkommen im Dschungel (Jumanji: Welcome to the Jungle)
U.S.A. 2017
Opening 21 Dec 2017
Directed by: Jake Kasdan
Writing credits: Chris McKenna, Erik Sommers, Scott Rosenberg, Jeff Pinkner, Chris Van Allsburg
Principal actors: Dwayne Johnson, Karen Gillan, Kevin Hart, Jack Black, Rhys Darby
We all remember the jungle adventure that the board game Jumanji brought into our world 20 years ago, when Robin Williams made us run from a wild stampede, experience a new level of arachnophobia and go wild with the monkey gang. This time it won't be the jungle coming to us, but we are going to the Jungle. While board games have become less appealing, Jumanji wants to be played nevertheless. If it needs to turn into a video game to be played, then so be it.
This time, 20 years later, four teenagers who couldn't be more different are in for the adventure of their lives. Spencer (Alex Wolff), a gamer and shy dweeb, along with his estranged childhood friend, the high school jock Fridge, are paired up in detention with Bethany, the school's self-absorbed Insta-beauty queen, and the introvert book worm Martha. Cleaning up the basement of the school they find a video game: Jumanji. After picking an avatar of their choice, the teenagers become drawn into the game, pixel by pixel. They find themselves in the middle of a jungle, but not as themselves, but in fact in the bodies of their avatar. What a surprise for Spencer to be Dr. Bravestone (Dwayne Johnson), a muscle man towering over the group with no weaknesses but an incredible Smolder. Fridge turns out to be a short Zoologist (Kevin Hart), while shy little Martha finds herself in the body of bombshell Ruby Roundhouse (Karen Gillan), master of the martial arts, killer of men and special skills in dance fighting. Unfortunately, Bethany learns that the "Curvy Scientist" Avatar she picked at first is nothing she would have dreamt of.
The kids find out quickly that they can die in this game and only have two lives to spare before they might die for good. Like in any good action video game, the avatars have special abilities but also weaknesses they need to consider to be able to solve each level. The real Jumanji-experience wouldn't be any bit scary if it wasn't for the deadly Hippos, Rhinos or Jaguars chasing them through the world of Jumanji.
Jumanji pushes them to their personal limits, where they need to overcome their personal issues and insecurities and work together to be able to finish the obscure game and hopefully yell "Jumanji" to finally return home.
What felt like a Teeny-Flick is a well-done tribute to the original Jumanji with Robin Williams, but slightly lacks the freshness and excitement of the 1995 version and relies a bit too much on its humor, which is no doubt a lot of fun and made me scream at points but seemed more immature than necessary. All together good entertainment, but no real miss if you have other plans this winter. (Karen Eve Malinowski O'Shaughnessy)