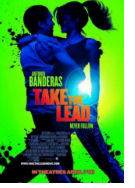 Dance! Jeder Traum beginnt mit dem ersten Schritt (Take the Lead)
U.S.A. 2006
Opening 25 May 2006
Directed by: Liz Friedlander
Writing credits: Dianne Houston
Principal actors: Antonio Banderas, Rob Brown, Yaya DaCosta, Alfre Woodard
Antonio Banderas leads a group of young talent in a dance movie directed by Liz Friedlander and inspired by the true story of Pierre Dulaine. Dulaine (Banderas) is a ballroom dancing teacher for the youth of New York's Upper East Side elite. He is charming and leads a life of elegance and sophistication even though he chooses to travel around the city on a bicycle.
One evening, Pierre is witness to a group of youths wrecking a car for no apparent reason. One in particular is so intent on venting his frustration that he does not notice Dulaine watching him. When he does there is a confrontation, but the encounter leaves Dulaine with the seed of a creative idea rather than reporting the youth to the police. He has decided to turn his dancing attention to the city's less priviledged.
As it happens, the owner of the car is the tough, no-nonsense headmistress of one of New York's roughest high schools, whilst the vandal is one of a group of kids sitting in school detention. To the headmistress' disbelief, Dulaine offers to supervise their detention and teach them ballroom dancing at the same time; she doubts he will come back after the first day. Inevitably, the kids are not in the slightest bit interested, preferring their loose hip-hop style to the stiffness of walzes and foxtrots any day; that is, until they watch Dulaine and one of his elite students dance a sizzling tango. Add to that the tempting seduction of a $5000 cash prize in a coming dance competition, and, gradually, both sides come together. Through his teaching, Dulaine also conveys deeper layers of trust and respect; through their hip-hop, the youths introduce Pierre to a different type of dancing energy. In the end, a new form of dance is born: hip-hop ballroom.
If you are an Antonio Banderas fan and if dance movies are just the thing for you, these will be a couple of hours well spent. (Osanna Vaughn)