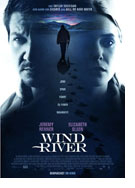 Opening 8 Feb 2018
Directed by: Taylor Sheridan
Writing credits: Taylor Sheridan
Principal actors: Jeremy Renner, Elizabeth Olsen, Graham Greene, Kelsey Asbille, Julia Jones
The state of Wyoming, USA, has the tenth largest landmass, and the seventh-largest Indian reservation: Wind River comprises 3,532.010 sq mi (9,147.864 km²) of water and land. Cory's (Renner) job with the U.S. Fish and Wildlife Service—the government owns 48% of Wyoming's land—is tracking predators, and killing if necessary to preserve nature's law and order.
When Wilma (Julia Jones) travels to Jackson, Cory and their son (Teo Briones) stop by the reservation to visit the grandparents. Grandpa Dan (Apesanahkwat) shows Cory a dead steer, with lion tracks nearby. A consummate tracker, what Cory discovers instead is an Arapaho girl's body. With weather conditions worsening, time is of the essence. Tribal Sheriff Ben (Greene) informs Cory FBI (Federal Bureau of Investigation) agent(s) are en route, yet not surprised that only Jane (Olsen) shows up, and a rookie to boot. So, Dan's Alice (Tantoo Cardinal) helps her out. As Ben, Cory and Jane talk to the deceased woman's father (Gil Birmingham) and pursue leads, two points are clear. Something in Cory's past pushes him, just as Jane's gutsy actions gain their respect.
Taylor Sheridan's screenplay for Hell or High Water, 2016, garnered an Oscar® nomination for Best Original Screenplay, just as Sicario, 2015, was nominated for Best Original Screenplay Award by the Writers Guild of America. In this, his directorial debut, Sheridan won Un Certain Regard for Best Director at Cannes Film Festival 2017. His screenplays integrate strong characters and narrative structure that correlate with nature and the theme's environments, e.g. symbolized by banking, drug cartels, and drilling, respectively. His impartial narrative style juxtaposes rapacious entities versus ordinary folk's milieus.
Regardless of their motives, Sheridan's characters are likeable: women are robust, men's motives make sense, and gunplay violence in key scenes negate moralizing. Renner, Olsen, and Greene's portrayals convey realistically balanced undertones; the supporting cast is terrific. Cinematographer Ben Richardson location filming encapsulates the challenges and magnificence of Wyoming and Utah. Gary Roach edits wisely, and Nick Cave and Warren Ellis' music is sometimes moody, oftentimes comforting. Wind River's riveting story probes the interrelationship among families, communities and surroundings, and personal (moral) courage. An informational black card at the film's end speaks volumes for the victims at the heart of Wind River. 107 minutes (Marinell Haegelin)


Second Opinion

Cory (Renner) is a wildlife officer in Wyoming with a personal attachment to the nearby Wind River reservation since he was married to a Native American. While tracking a predator animal across the vast winter landscape of Wyoming, he comes across the body of a barefoot teenage girl who has obviously been raped. The reservation's quiet police chief is surprised to actually get help from the FBI, although Agent Jane Banner (Olsen) is young, inexperienced and out of her depth. The medical examiner cannot write homicide on his report which would insure the arrival of more agents because the exact cause of death was the lungs bursting due to the freezing temperature. Cory agrees to help Jane, which is mostly in order to come to terms with his own hurt and grief. He proceeds to go on his own non-authorized hunt for very different animals than he usually chases.
This western thriller is clever and chilly and shows terrific empathy for the plight of Native Americans on reservations in the USA. Comanche Gil Birmingham who plays the dead girl's father adds to the audience's understanding of this plight. (Thelma Freedman)