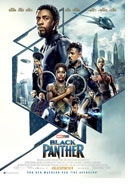 Opening 15 Feb 2018
Directed by: Ryan Coogler
Writing credits: Ryan Coogler, Joe Robert Cole, Stan Lee, Jack Kirby
Principal actors: Chadwick Boseman, Michael B. Jordan, Lupita Nyong'o, Danai Gurira, Martin Freeman
The Marvel Cinematic Universe expands its territory with Black Panther, introducing cinemagoers to another Marvel Comics superhero. Writer-editor Stan Lee, with writer-artist Jack Kirby, debuted the Black Panther character in 1966, the earliest champion/protector of African descent. It is amazing, and a tribute to them for creating so many unique personalities and storylines for American comic books. Be on the lookout for Stan Lee's cameo.
Oakland, California in 1992 gives witness to relevant past events above the opening credits, then continues in the present-day. T'Challa / Black Panther (Chadwick Boseman) returns to Africa to succeed the throne following his father's death. Supported by statesman cum spiritual figure Zuri (Forest Whitaker), stepmother (Angela Bassett) and tech-savvy kid sister (Letitia Wright), T'Challa grapples with paradoxical matters. The realm, reclusive and mineral rich, exists on two parallel fields with W'Kabi (Daniel Kaluuya) as first defense, which Wakandans fiercely guard from fanatic, money-grubbing villains (Andy Serkis/Klaw, Michael B. Jordan/Erik). Upon learning of these malefactors' crucial heist in London, Nakia (Lupita Nyong'o), head of an all-female Special Forces, Okoye (Danai Gurira) and T'Challa head to South Korea. T'Challa encounters Agent Ross (Martin Freeman) and is dealt an iffy hand. The mixed outcome shifts attention to homeland, fresh challenges, and an unlikely coalition.
Co-writer with Joe Robert Cole, director Ryan Coogler's imprint distinguishes this film within Marvel's Universe. Coogler brought Fruitvale Station (2013) alumni: cinematographer Rachel Morrison, production designer Hannah Beachler, and composer Ludwig Göransson, and Jordan starred. This film's tone (more solemn) is set off by its appearance: attention to elaborate details and upholding African integrity. Fictional Wakanda is rooted in Africa's distinct cultures: Beachler's research centered in Sub-Saharan Africa, while Ruth E. Carter's costumes have African and some haute couture influences – its visual splendor makes the film worth seeing. Worldwide special effects teams oeuvre is awesome.
Whether geopolitical crises or everyday circumstances, there can be cooler heads in leadership positions, but it demands making choices and taking a stance. Captain America: Civil War established the foundation for the Black Panther's emergence: the character's appearance and ethics, international political landscape, and even a Xhosa language-based Wakandan language. Marvel's legacy to cinemagoers is plunging into a cornucopia of larger-than-life comics characters and superheroes, thus enlarging their Universe for our delight. (Marinell Haegelin)


Second Opinion

Being one of my favorite action movies, Black Panther combines tradition, technology and action-packed scenes to make this a film well worth watching. The country Wakanda is only known to the world as a third-world country but inside the country the real Wakanda possesses great technology unknown to the world. The old king was assassinated by an evil outlaw with the name of Ulysses Klause (Andy Serkis). Embracing African tradition during the initiation ceremony of the king is very dramatic and exotic in contrast to the high technology they use for their spaceships. The new king "T'Challa" (Chadwick Boseman), alias Black Panther, has to settle the task of taking care of all threats in Wakanda. He uses his ex-girlfriend Nakia (Lupita Nyong'o) as a spy and sends his best, well-trained warrior Okoye (Danai Gurira) on missions. One of the missions takes him to Korea where he meets an old ally from the CIA who is seriously injured and would die if he were left in our world. The Black Panther decides to break one of the holy rules of Wakanda and saves his life.
Wakanda is not open to the public because they don't want to get involved in the human wars. but a long-forgotten Wakandian citizen returns and tries to claim the throne. He has the skills to do it since he is an elite soldier and was trained by the US. From the look of things, the Black Panther doesn't stand much of chance against him in a showdown, one-to-one fight. With all eyes on the new evil king, the citizens see their world come apart, but is all lost?
I really enjoyed this movie because the action scenes were really well done. It also embraced many new ideas, which Marvel hasn't used in their other movies. Combining slow motion and rapid fighting really makes it easy to keep track of the scenes. All in all a great movie and I would recommend it to anyone who enjoys seeing an action, science fiction type of movie. (Adrian Schoeneshoefer)