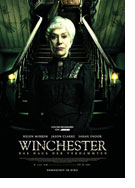 Winchester: Das Haus der Verdammter (Winchester)
U.S.A. 2018
Opening 15 Mar 2018
Directed by: Michael Spierig, Peter Spierig
Writing credits: Michael Spierig, Peter Spierig, Tom Vaughan
Principal actors: Helen Mirren, Jason Clarke, Sarah Snook, Finn Scicluna-O'Prey, Angus Sampson
For the first time in history comes an "Anti-gun" ghost /horror story directed by the Spierig brothers. It couldn't come at a better time with yet another shoot spree to add to our historical count. Based on the true story of Sarah Winchester (Academy Award Winner Helen Mirren), wife of the Winchester gun company's owner, who in 1906 began to build a monstrosity of a mansion which is seven stories tall, includes around 500 rooms, has a labyrinth of strange hallways as well as staircases which leading to nowhere. The very existence of this California mansion represents madness, curiosity and set off our imaginations on the quest as to who was Sarah Winchester.
Dr Eric Price (Jason Clarke) appears from the beginning to be a man who has a drug habit and a secret past, and, therefore, is a man who can easily be bought by money. He's asked to make a medical examination of the mental sanity of Mrs. Winchester. Upon arrival, he only visualises the sheer enormity of the building site. Workers are everywhere, building 24 hours a day, seven days a week and to what purpose? Well that's hard to say. It doesn't take long that he too begins to hallucinate and begins to rely heavily on his medicine to get him through the day.
The pace of the film speeds up and spirals as ghosts pop out from nowhere and disappear into the next room. The timing is quite important to the story and is quite different to most, so the haunted effects will bring a chill to your bones. Quite early on, Sarah explains that she is building this house for ghosts who have been shot by a Winchester rifle and can't find their peace. Both the mansion and a delusional mind create a perfect labyrinth of horror, one that needs to be solved or all will perish. For you screamers out there bring a Kleenex when it gets to be too much. (Shelly Schoeneshoefer)


Second Opinion

Dr. Eric Price (Jason Clarke), a famous psychologist is asked to evaluate the mental state of Sarah Winchester (a brilliant Helen Mirren), the widow to the Winchester rifle imperium. The shareholders of the Winchester company are afraid she might be unfit to decide in favor of the company due to strange occurrences in her home. Sarah Winchester lives in a mansion that is under non-stop construction. Seven days a week, 24 hours a day, construction builders are out on the premises building and furnishing new rooms, while tearing down old ones. It has become a never-ending maze with stairs and doors that lead nowhere, and hallways that run in confusing twists and turns.
Sarah Winchester invites Dr. Eric Price to her mansion in the San Jose area to prove to him that there is nothing wrong with her, but that in fact her mansion is haunted by tormented souls of people that were killed by a Winchester rifle. It does not take long until Dr. Price becomes witness to strange things happening in the house, making him doubt his own senses and realizing that it may be that Sarah was right after all. Now how to get out of there alive? (Karen Eve Malinowski O'Shaughnessy)