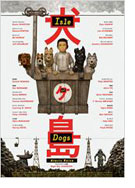 Isle of Dogs - Ataris Reise (Isle of Dogs)
U.S.A./Germany 2018
Opening 10 May 2018
Directed by: Wes Anderson
Writing credits: Wes Anderson, Roman Coppola, Jason Schwartzman, Kunichi Nomura
Principal actors: Bryan Cranston, Koyu Rankin, Edward Norton, Bob Balaban, Bill Murray
Director Wes Anderson uses Japanese haiku and ancient historical screens to cover 10 centuries of canine history and domestication by Japanese dynasties to serve as loyal guard dogs and pets to the Japanese households. Alas, the cat-loving Kobayashi clan has come up with the ultimate plan to eliminate the canine population: spreading viruses that make dogs ill with snout fever. Soon the dogs must be quarantined on Trash Island before the humans are contaminated. People split into factions: some try to find a cure, while others join the strongest political party.
The political clan leader Kobayashi is the first to expel their dog Spots in order to appear as fine examples to the rest of the community. Before long, 12-year-old Atari the nephew of the Kobayashi family crashes onto the island in a stolen 'puddle-jumper' to search for his dog Spots. Atari soon accompanied by a group of wild alpha dogs who are willing to support this quest. Perhaps they too will escape this island which is virtually a prison.
This marvellous story-telling comes straight from the dog's mouth and has you laughing while at the same time makes you think about the politics in today's world. The best part was to hear all of these famous, timeless voices coming out of the mouths of the characters such as Bill Murray, Jeff Goldblum and Scarlett Johansson. At the 2018 Berlinale press conference, Anderson said that the best thing was that when he asked the actors to play these roles, he knew they couldn't say that they weren't available – because this type of work can be done any time of the day. Absolutely brilliant!
Meanwhile the Isle of Dogs landed at the Denver Film Festival where we were invited to view the film with our dog. Hmm… So what does that mean? My dog Rügen and I can go to the cinema together? Does that mean I have to buy a seat for him to or will he stretch out in front of me in the front row? Does he have to sit on my lap or will he be able to manoeuvre into that folding cinema chair and maintain that position while watching the entire movie? And do I have to worry about other dogs getting into a dog fight so he may have to wear a muzzle? Will he understand the complexities and subtle moments in the film or will we end up at dog school again so that master and dog can reunite on a higher level so that we will transcend all the modern common conflicts that challenge master and dog? I can hardly wait to see the day when the German cinema has dog-film night. (Shelly Schoeneshoefer)


Second Opinion

Isle of Dogs is an exceptionally original and creative stop-motion animation with rich visual depictions and huggable characters. Director Wes Anderson's quick-paced tale, co-written with Roman Coppola, Jason Schwartzman, and Kunichi Nomura, is laced with witticisms and humor, politics and empathy. Beginning with an overview of a Japanese dystopian, Megasaki City, details are given how the Kobayashi Dynasty developed, and the shenanigans of Mayor Kobayashi (Kunichi Nomura) with Major-Domo (Akira Takayama) at his side.
Focus then shifts to Trash Island, current home to all four-legged past residents of said city after the outbreak of a virus. First to change house was Spots (Liev Schreiber), the dog of Kobayashi's ward, and despite intervention attempts by Professor Watanabe (Akira Ito) and his Assistant-Scientist (Yoko Ono). Part 1 introduces the Little Pilot (Koyu Rankin) – Atari is on a quest. Island inhabitants Rex, King, Duke, Boss, and Chief's curiosity get the best of them; unbeknownst, the lil' nobody pilot is somebody. Meanwhile, in Megasaki City students become restless, encouraged by Tracy (Greta Gerwig), as the propaganda agenda intensifies. By the time Part 4 rolls around, parallel storyline revelations include: the Mayor's plan, scientific updates, news about aborigine dogs, conspiracy countermoves, and doggy love interests (Scarlett Johansson, Anjelica Huston). A great gang of canines pulls together at Kobayashi Park, whereby determination, honesty, and change of heart eventually make the difference.
Alexandre Desplat's music matches the film in originality, just as Tristan Oliver's cinematography, and Andrew Weisblum, Edward Bursch and Ralph Foster's editing is spot-on. The detailing replicating a futuristic Japanese community stretches from front- to end titles. A variety of (mostly Japanese) musicians' original and selected songs are soundtrack features, just as Akira Kurosawa films, plus Rankin/Bass Stop-motion productions, were an influence. Teams from production design, art direction, sound, visual effects, special effects (SFX), animation, and costumes deserve mention for their brilliantly original manifestations. Anderson (Grand Budapest Hotel) collaborated again with Studio Babelsberg, Germany (co-producer) for sets modeling.
There is little doubt this engagingly quirky film, with its endearing two- and four-legged characters, will join Wes Anderson's growing list of film classics. "Because… dogs love those." (Marinell Haegelin)