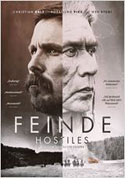 Feinde – Hostiles (Hostiles)
U.S.A. 2017
Opening 31 May 2018
Directed by: Scott Cooper
Writing credits: Scott Cooper, Donald E. Stewart
Principal actors: Scott Shepherd, Rosamund Pike, Ava Cooper, Stella Cooper, Christian Bale
By 1892, swaths of land are molded into states, in a now united country. Ever increasing numbers of immigrants, combined with government incentives, e.g. the 1862 Homestead Act, draw people/families westward. Indigenous peoples feel the squeeze, then crush, and push back, fighting to safeguard ancestral lands that nourish them, body and soul. Against this background of natural wonder, Hostiles pokes holes in existing mythologies, generating audiences examining myths.
New Mexico: Capt. Joseph J. Blocker's (Christian Bale) long, lustrous military career is winding down when Col. Abraham Biggs (Stephen Lang) gives a final order. The gravely ill Chief Yellow Hawk (Wes Studi) has a presidential pass to return with family to ancestral lands. Joe is to lead the escort; he knows the land like the back of his hand, speaks Cheyenne, and yet detests Indians. Joe digs deep in his soul before riding forth; a dry-lightening friction in the air is palpable. Passing a still homestead, they make a surprising discovery: the quailing Rosalie Quaid (Rosamund Pike). "She's broken," Master Sgt. Thomas Metz (Rory Cochrane) somberly observes, while Corp. Henry Woodsen (Jonathan Majors) provides solace. As the relentless land spits out fresh adversarial challenges, Black Hawk (Adam Beach) and Yellow Hawk prove their mettle.
Colorado: Lt. Colonel Ross McCowan (Peter Mullan) generously accommodates the group and then queries whether it be an imposition to transport a prisoner (Ben Foster) to Fort Pierce. Joe obliges, only to be taken by surprise later. Meanwhile, a tie develops between Rosalie, the Cheyenne women (Q'orianka Kilcher, Tanaya Beatty) and grandson Little Bear (Xavier Horsechief) setting in motion a consolidation within the group.
Montana: A majestic vista foretokening rejuvenation and healing, and a peaceful existence.
Scott Cooper (Crazy Hearts, 2009) directs, and co-wrote with Donald E. Stewart, this historically significant western epic. Tantalizing is the level of impartiality they implant in Hostiles, braiding perfidious undercurrents and oft-ignored facts into its texture. Good people's uneasy struggle with external/internal conflicts is epitomized by the brilliant cast; Bale's character shifts between time-honored to unchartered behavior throughout, e.g. Joe's anguish in the scene without sound; Studi's compelling performance as the elderly Chief whose presence dignifies the others actions, while Pike's character's variations of kindness' is seemingly off-kilter with Rosalie's temperamental uncertainty until it travels full circle during the course of the film.
Audiences are never left in the lurch: all-encompassing cinematography (Masanobu Takayanagi) and clear-cut dialogue guarantee that. Tom Cross' editing maximizes usage of pacing, effective transitions, and sparing combinations of dialogue, Max Richter's music that incorporates native instruments, and ambient sound. Cooper has concocted one fine yarn… it would be plum silly to miss its offer of hope in the goodness of mankind, and respect of nature. Sometimes, reflection determines greatness. (Marinell Haegelin)