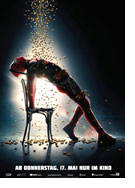 Opening 17 May 2018
Directed by: David Leitch
Writing credits: Rhett Reese, Paul Wernick, Ryan Reynolds, Rob Liefeld, Fabian Nicieza
Principal actors: Josh Brolin, Ryan Reynolds, Morena Baccarin, Zazie Beetz, Brianna Hildebrand
The "Merc with the Mouth's" sequel flick explodes onscreen, trailed by a fast-backwards to six weeks earlier and a major killing. A quick run-of-Mouth's commentary fills in all sorts of blanks a propos taxi driver Dopinder (Karan Soni), and foxy Vanessa (Morena Baccarin). Facetious opening credits tell us nothing about everything, i.e. sets the mood.
Blind Al's (Leslie Uggams) salty no-nonsense retort to Wade/Deadpool (Ryan Reynolds) wanting sympathy reveals these roommates are close. Dropping in on Colossus (Stefan Kapičić voice, Andre Tricoteux body), the X-Man convinces Deadpool a new direction is worth a shot. The test comes at Broadstone House, during a standoff between mutant Russell (Julian Dennison) and everybody else including the Headmaster (Eddie Marsan). Sliced in-between, Nathan/Cable (Josh Brolin), your everyday cybernetic, time-traveling mutant is introduced, so when they face-off Deadpool's resolve increases. He and Weasel's (T.J. Miller) scheme is to recruit allies (great comedic sequence) with a self-bequeathed moniker, "X-Force." Lucky for them, Neena (Zazie Beetz) is in the mix. Because, to get where he wants to go, Wade/Deadpool must go back repeatedly, until he gets it right.
Marvel Comic's debuted Deadpool in The New Mutants, February 1991. Its first feature film debuted in 2016 reaping two "first-time-ever" titles: Biggest R-rated film opening, and nevertheless the highest grossing R-rated film ever—over $750-million globally. Deadpool was also nominated for a Golden Globe; since 2009 writers Rhett Reese and Paul Wernick struggled to launch their "passion project". Ryan Reynolds joins Reese and Wernick in co-writing and producing 2; they rewrote throughout the production. As storytellers, they stayed "true to the DNA of the original," says director David Leitch. All concur Reynolds and Deadpool share personality traits: irrelevant, funny, big-hearted and compassionate. Hmm, Wade/Deadpool is irascible, childish, violent, self-loathing and pushy as well.
Unique is Deadpool's penchant for wisecracks, quirky tongue-in-cheek commentary, and talking to the fourth wall (audience) – a titular superhero. The cast is brilliant; the metamorphosis between Deadpool and Cabel hints at potential agendas. Leitch's long-time collaborator (John Wick, 2014, Atomic Blonde, 2017) Jonathan Sela is cinematographer; Craig Alpert, Elísabet Ronaldsdóttir and Dirk Westervelt edit with Tyler Bates music. Lively visual depictions arise from David Scheunemann's production design, Dan Hermansen and team's art direction, Sandy Walker's sets, Kurt and Bart's costumes, and visual effects and special effects (SFX) artists.
Deadpool 2—PG-13 now—nicely balances over-the-top action, satirical comedy, and empathetic, and otherwise, emotion. It has already reached cult-status: the energized audience was expectant and involved, snickering/laughing, hissing, cheering and clapping throughout. The comic's creator and a fan of the film Rob Liefeld (with Fabian Nicieza) points out, "X-Force is the second best-selling comic of all time." Marvel Cinematic Universe dares to push boundaries considering Africans (Black Panther) and women (Wonder Woman) were honored in the past year. Maybe not everybody's ideal superhero, but face it, Wade/Deadpool has likeability and charisma … besides not being afraid to kick-ass when necessary. (Marinell Haegelin)