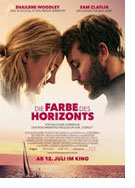 Die Farbe des Horizonts (Adrift)
U.S.A. 2018
Opening 12 Jul 2018
Directed by: Baltasar Kormákur
Writing credits: Tami Ashcraft, Aaron Kandell, Jordan Kandell, David Branson Smith
Principal actors: Shailene Woodley, Sam Claflin, Grace Palmer, Jeffrey Thomas, Tami Ashcraft
Nature has a way of reducing humans to their true size, and worth. Just as director Baltasar Kormákur (Everest) has a knack for transposing daring feats to the silver screen. With a screenplay based on Tami Oldham Ashcraft and Susea McGearhart's account of the ordeal, Red Sky in Mourning: A True Story of Love, Loss and Survival at Sea, audiences set sail on a suspenseful, life-affirming voyage.
In 1983, Tami Oldham (Shailene Woodley) finds herself in Tahiti with but one clear goal: to see the world. Then she meets Richard Sharp (Sam Claflin) – paradise can have an effect. One thing—attraction—leads to another—sailing a 44-foot boat to San Diego, California. Everything is jolly, sunsets a debatable color, until a land-based bird drops in. The film opens just after their catastrophic collision with nature—one of the worst ever—the category four Hurricane Raymond. In its aftermath, Tami faces the biggest challenge in her short life; a sextant and determination will decide her and the injured Richard's fate.
In tandem Kormákur, and Robert Richardson's creatively framed, visually sumptuous cinematography lay out the true-life adventure, moving from the present back/forth on the timeline while advancing the story. Thereby at each stage, we learn more about Tami and Richard's backgrounds, and the type of person each is. Superbly cast, Woodley and Claflin expressively depict their characters. Evocatively underscoring the course of the film is Volker Bertelmann's music, although editor John Gilbert leaves audiences drifting too long.
Heroism comes in all sizes, and against varying odds resoluteness and courage count. We are drawn in in paradise (filmed in Fiji and New Zealand) and sail the breath of the Pacific Ocean guided by the emotive range that ripples and flows throughout the film. Once under way, the journey is more important than arriving, since it is clear watching Adrift that "we'll be fine." (Marinell Haegelin)