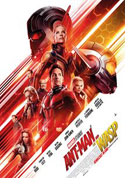 Ant-Man and the Wasp
U.S.A. 2018
Opening 26 Jul 2018
Directed by: Peyton Reed
Writing credits: Chris McKenna, Erik Sommers, Paul Rudd, Andrew Barrer, Gabriel Ferrari
Principal actors: Paul Rudd, Evangeline Lilly, Michael Pena, Walton Goggins, Bobby Cannavale
Scott Lang (Paul Rudd) is trying to finish the last few days of his sentence of house arrest. He is not able to leave the house, otherwise the FBI will storm it and search for him. Playing with his daughter, he breaks the fence and sets off the alarm which triggers the FBI into action. This was just the beginning of his adventure. Suddenly Scott Lang is called by his colleague who needs his aid. He answers doubtfully since he does not want to risk his sentence. His team refuses to accept no and kidnap him but keep him safe in the meanwhile. Being reunited as a team they start a dangerous mission to set off to find Hope's mother in the Quantum Realm. Many dangerous people and threats await them, as they try to secure the last pieces for the machine needed to enter to the Quantum Realm.
I really enjoyed this movie because it had everything a good, humorous, science fiction movie needed to have! The great sense of humor was especially due to the support of Michael Peña. The action scenes were very well done since it is a very unusual concept of shrinking objects and throwing them very large at your opponents. The storyline is also amazing since it connects high physics matters with personal feelings and hardship. You really connect with the characters even the evil ones. The technology is also described well and made it sound very plausible. The powerful and helpful ants, of course, make the movie even more exciting. Even after all the exciting action scenes, they took it one more step further. They created an opponent which can shift through dimensions which will make your heart beat even faster since you never know where she will appear! All in all, I highly recommend this movie to anyone who enjoys an action/ science fiction movie. You will, for sure, enjoy the humor and the action. (Adrian Schoeneshoefer)


Second Opinion

Marvel Studios keeps on giving celluloid comic magic: robust action, death-defying feats, awesome visuals, humor and big-heartedness, with superhero characters portrayed by great casts. Ant-Man and the Wasp, the sequel to Ant-Man, 2015, is Marvel Cinematic Universe's (MCU) twentieth film. Peyton Reed is again at the controls, and the jam-packed screenplay is based on two Marvel comics: Ant-Man (September 1962) and Wasp (June 1963). Psst… the Tales to Astonish comics-writer Stan Lee's cameo is impossible to miss.
A sample of the many subplots are: Scotty / Ant-Man (Paul Rudd), still under house arrest following the fiasco in Germany, and Peanut (Abby Ryder Fortson) create their own world when she spends weekends with dad. Luis (Michael Peña) runs X-con Security with their guys (Tip "T.I." Harris, David Dastmalchian); the FBI is ever vigilant, and the slightest disturbance triggers Agent Woo (Randall Park) and team showing up. Dr. Hank Pym (Michael Douglas) and Hope (Evangeline Lilly), having refined the art of deflection, bore into the quantum realm puzzle. To that end, black market hustler Sonny Burch (Walton Goggins) supplies parts; about the time Ghost (Hannah John-Kamen), a weird new player arrives on the scene. Whereas, former Pym colleague Bill Foster (Laurence Fishburne) is caught in a moral dilemma. Michelle Pfeiffer as Janet van Dyne, Judy Greer as ex-wife Maggie with Paxton, Bobby Cannavale also turns up.
During its three-year gestation period, a script developed that coordinated with Marvel's other projects. Reed wanted the film's genre template to be distinctive. Toward that, " Ant-Man and the Wasp is MCUs first film with a female character in the title; Wasp is a superheroine, so about time. Its organic slapstick-cum-villains-cum-heist-cum-romance structure is delightful to watch. Many cast members' reprised roles, as well as production associates returned. Thirteen major visual effects companies created amazing images, from gargantuan to minuscule. Dan Lebental and Craig Wood's smooth editing sensibly bring together effortless, crisp cinematography by Dante Spinotti and Christophe Beck's again sweeping and cheeky music.
Back to all those subplots—how do they fit together? Like a transmogrifying mind-twister, you have to see to believe. There is a lot to like about Marvel's jaunty, sometimes facetious, charmingly teeny-tiny heroes-addition. By now, Marvel-trained audiences know to stay put at the end; again, two hints about the future are planted. With colossal good fun awaiting, fly straightaway to the nearest cinema. (Marinell Haegelin)