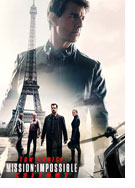 Mission: Impossible - Fallout
U.S.A. 2018
Opening 2 Aug 2018
Directed by: Christopher McQuarrie
Writing credits: Christopher McQuarrie, Bruce Geller
Principal actors: Tom Cruise, Henry Cavill, Ving Rhames, Simon Pegg, Rebecca Ferguson
Ethan Hunt (Tom Cruise) awakes from a nightmare where he realizes that due to his own selfish interests he has endangered someone he loves by marrying her and that is for the rest of her life. Now, fully awake, he is then handed an important mission which sets this film rolling. He and his IMF team have to intervene the selling of plutonium in order to stop the fall of the world as we know it. When it came to choosing whether to save one of his team members or to hang on to the case full of plutonium, he makes the grave mistake of choosing his friend. The mission thus explodes in their faces and the team fights hard to take control even when they are forced to take a new member onto to their team. As they race against time, they meet old friends and enemies who somehow always know more than they do even though they are a team that has to set things straight.
The film is action packed with exciting music and we get a close look at how close the team fits together and where their soft spots are. There is humor and it takes an interesting look at the two significant women in Ethan Hunt's life. So, although this is just another sequel, there are some new twists with stunts galore. We travel around the world, seeing the city life to life in the remote areas, as the Mission Impossible team does everything it can to save the world. Whether they fight in the men's bathroom or are hanging off a cliff somewhere deep in the mountains, this film is certainly worth its money because you actually walk away caring about the characters which doesn't happen very often in this film genre. (Shelly Schoeneshoefer)


Second Opinion

The Impossible Mission Force (IMF) gets a new assignment from Secretary Hunley (Alec Baldwin); but, Erica Sloan (Angela Bassett) steps in with another agenda. CIA mandates agent August Walker (Henry Cavill) will oversee the operation. Ethan, Luther, and Benji (respectively Tom Cruise, Ving Rhames, Simon Pegg) take Walker's presence in stride, unwavering from the mission: locate missing plutonium containers. Then, mastermind Solomon Lane's (Sean Harris) apprehension is snafued; Ilsa Faust (Rebecca Ferguson) turns up, and the broker (Vanessa Kirby) ups the ante. Hang on – the high stakes race picks up speed.
Quick overview: This is the sixth installment in the Mission: Impossible film series based on the same-titled television series. The TV series generated a fan base from 1966 through 1973 with a revival from 1988 through 1990, whereby brainpower determined outcomes, i.e. mind over matter. Whereas, the film franchise began in 1996 with Cruise playing IMF's Ethan Hawk, and still relies on tons of adrenalin-action.
What is sorely lacking in writer-director Christopher McQuarrie's screenplay is credibility and coherence. Characters pop on-screen in Berlin, mumble some lines then whoosh to other continents, hitting potholes en route. Who is what is who? The cast delivers; Cruise broke his leg during the London chase sequence—unnoticed thanks to the illusory art of editing. Rob Hardy's embracive cinematography and Eddie Hamilton's nimble-fingered editing deserve credit. Lorne Balfe's music is compelling. Still, despite audiences liking high-octane action flicks, thirty minutes shorter might have tightened the storyline.
Nevertheless, Fallout hurtles to the finish line delivering prerequisites franchise diehards anticipate. And, the breathtakingly gut-wrenching, heart-pumping, nerve-rattling action sequences are summer popcorn entertainment. (Marinell Haegelin)