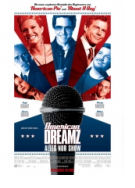 American Dreamz (American Dreamz - Alles nur Show)
U.S.A. 2006
Opening 15 Jun 2006
Directed by: Paul Weitz
Writing credits: Paul Weitz
Principal actors: Hugh Grant, Dennis Quaid, Mandy Moore, Willem Dafoe
Written, produced and directed by Paul Weitz (About a Boy), American Dreamz is a darkly humorous satire starring Hugh Grant, Dennis Quaid, Willem Dafoe and Marica Gay Harden, as well as a number of newcomers to the film scene.
Martin Tweed (Grant) is the host of "American Dreamz", an enormously successful, TV talent show. Wanting to keep the ratings high, Tweed opts to begin the new season with as disparate and dysfunctional a group of contestants as possible, including Sally, a conniving southern belle, Omer, a bumbling would-be terrorist and Broadway show tune fan, who has been sent to his family in America to await activation, and Sholem, an orthodox cantor who performs goofy raps.
At the same time, to boost the popularity of the reclusive, though newly re-elected, President Joe Stanton (Quaid), his Chief of Staff (Dafoe) negotiates with Tweed to have the president on the jury for the grand finale. Acknowledging the extra pizazz this would give the show, Tweed agrees.
As soon as the president's attendance becomes known, Omer (Sam Golzari) is contacted by the local terrorist cell, who see this as the perfect opportunity to strike a fatal blow. They promise to pull whatever strings are necessary for Omer to make it to the final round, though, as it turns out, his natural and bumbling charm captures the imagination of the viewers and he makes it there on his own credit. His opponent in the last round is the self-centred Sally, who has no qualms in exploiting the public's delight in her dewy-eyed, Iraq veteran boyfriend (Chris Klein), whilst having sex with Tweed in her dressing room...
I found American Dreamz unexpectedly entertaining and funny, though at times I must admit I felt a bit guilty at what was actually making me laugh! It's really an ensemble piece with very good performances all round, including newcomers Sam Golzari and Tony Yalda, who plays Omer's effeminate, cousin-come-manager, Iqbal. Willem Dafoe, in an obvious and excellent impersonation of Dick Cheney, plays opposite Dennis Quaid, as the confused, uninformed president, who just happens to be from Texas and have a father who had also been been president, producing between them some of the most humorous moments. (Osanna Vaughn)