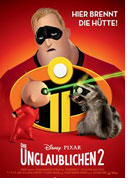 Die Unglaublichen 2 (Incredibles 2)
U.S.A. 2018
Opening 27 Sep 2018
Directed by: Brad Bird
Writing credits: Brad Bird
Principal actors: Craig T. Nelson, Holly Hunter, Sarah Vowell, Huck Milner, Catherine Keener
Incredibles 2 is incredibly good! With superheroes outlawed, members of that exclusive group are in hiding. The Parr family is no exception, so when Rick Dicker (Jonathan Banks) is reassigned Bob / Mr. Incredible (Craig T. Nelson) and Helen / Elastigirl (Holly Hunter) mentally prepare themselves. Then their friend Lucius / Frozone (Samuel L. Jackson) tells them about super-rich Winston Deavor's (Bob Odenkirk) invitation; it is skeptically received. But, the proposition from Winston and Evelyn (Catherine Keener) is intriguing, yet for it to work the Parrs need to make adjustments, and, the kids (Sarah Vowell, Huck Milner, Eli Fucile) cannot be told about it. As the plan develops, new players with unique skills emerge, while on the home front there are also new developments. Until, Screenslaver (Bill Wise) gets involved. Tension and terror mount, and the best-laid plans are turned upside-down.
Incredibles 2 is a sequel to writer-director Brad Bird's 2004 animation, and picks up where The Incredibles left off after defeating Syndrome. Open to a sequel since 2007, by using the three-month gap from the first film Bird's screenplay preserves his beloved characters and their world. Many of the brilliant original cast members returned, although Milner replaces Spencer Fox, i.e. puberty altered his voice, Banks replaces Bud Luckey, and LaTanya Richardson Jackson replaces Kimberly Adair Clark. New characters/voices are: Odenkirk and Keener as the Deavor brother/sister; Sophia Bush as the enthusing Voyd and Isabella Rossellini as the gutsy Ambassador, and Phil LaMarr as superheroes Krushauer / Helectrix. Simply said, incredible are production design (Ralph Eggleston), art direction (Josh Holtsclaw), and animation—Pixar Studios and many more from around the world.
Family supersedes superheroes in this incredible world. Without sacrificing action, seat-hugging suspense, or laugh-out-loud moments. Audiences have so much fun the 118-minutes whiz by way too fast. Maybe, just maybe there will be a follow-up, since many loose threads are now there to follow. And, even better, maybe we will not have to wait another 14-years. (Marinell Haegelin)


Second Opinion

Incredibly, it's been 14 years since The Incredibles premiered, but the sequel picks up right where the original left off. It's still the 1960s, sort of. The Incredibles are a typical American family (albeit with superpowers) and are still grappling with typical family issues (albeit also supervillains). Mom and Pop, aka Mr. Incredible and Elastigirl, battle the forces of evil while nervously easing their two older kids into the superhero game, meanwhile wondering if their baby might have latent superpowers of his own. Spoiler alert: boy, does he ever. The resulting mayhem is something every parent can relate to, oddly enough.
Unfortunately, crime fighting is a messy business, and after an especially destructive bout destroys much of the city, the superhero program is shut down. The Incredibles find themselves out of a job and a home. But a new hero emerges in the form of a boyishly enthusiastic billionaire intent on making "supers" relevant again. With nifty gadgets by his inventor-genius sister and a marketing plan with a girl-power angle, he has the Incredibles poised for a big comeback. But while Mom grapples with a new dastardly villain, Dad Incredible is home grappling with the house and kids.
A new Pixar movie by writer/director Brad Bird (The Incredibles, Ratatouille, The Iron Giant) is worth waiting for, and this one doesn't disappoint. It's funny, it's charming, and it's easily worth its longer running time. The animation is top-notch – just check out Violet's hair. Caution: intense strobe effects may be problematic for some. Otherwise, go and enjoy. (Mason Jane Milam)