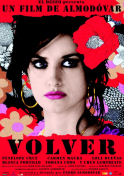 Volver - Zurückkehren (Return, Volver)
Spain 2006
Opening 3 Aug 2006
Directed by: Pedro Almodóvar
Writing credits: Pedro Almodóvar
Principal actors: Penélope Cruz, Carmen Maura, Lola Dueñas, Blanca Portillo, Yohana Cobo
The latest film from Pedro Almodóvar opened at the Cannes Film Festival this spring, and according to all reports, would have been awarded the Palm d'Or if the audience instead of a jury had made the decision. But instead, a joint prize for Best Actress was given the spectacular ensemble of women actors, led by Penelope Cruz, and Almodóvar only the prize for the Best Screenplay, disappointing almost everyone.
I haven't seen the winning film, Ken Loach's The Wind that Shakes the Barley, but I am certain that Almodóvar deserved more than just Best Screenplay, although the script is brilliant, full of fantasy, and mischief. This film, which he calls a comedy, is lighter and more playful than his most recent, Bad Education, but no less moving or riveting. Penelope Cruz, who gives a wonderful performance, is so mesmerizing and beautiful that I found it almost impossible to take my eyes off her long enough to read the subtitles. (Since I don't speak Spanish, this was something of a hindrance—she is on screen in almost every scene).
Like all of Almodóvar's films, the story is layered and sometimes not easy to follow. It involves three generations of women, their secrets, two murders, and a ghost. Cruz is Raimunda, mother of 14-year old Paula (Yohana Cobo). She is married to an unemployed, beer- swilling deadbeat with designs on Paula. Sole (Lola Dueñas), Raimunda's sister earns her living as hairdresser, and like Raimunda lives in Madrid. Their mother (Carmen Maura), who died in a fire with their father, appears as a ghost first to her sister, Tía Paula (Chus Lampreave) in the village of La Mancha where the family comes from (as does Almodóvar himself) then she shows up in Madrid and moves in with Sole . Also among the brilliant collection of women: the aunt's neighbor, Agustina (Blanca Portillo) who isdying of cancer, Raimunda's vivid collection of friends and Sole's diversely entertaining clients.
It is a lyrical movie about women, about love, about loyalty -- about life and death. It is full of humor and sweetness, pain and sadness, glorious colors and beautiful music. Almodóvar just can't make a bad film. (Adele Riepe)