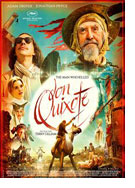 Opening 27 Sep 2018
Directed by: Terry Gilliam
Writing credits: Terry Gilliam, Tony Grisoni
Principal actors: Adam Driver, Jonathan Pryce, Stellan Skarsgård, Olga Kurylenko, Joana Ribeiro
Involved with another film project in Spain, Toby (Adam Driver) fortuitously gets a copy of his first film from a gypsy (Óscar Jaenada). Watching it, the arrogantly successful advertising executive-cum-director remembers particulars—people, locations. Some 10plus-years earlier a village embodied cast and location: His Don Quixote and Sancho Panza—an old cobbler (Jonathan Pryce) and uncomplaining farmer (Sergi López), the farmer's wife (Rossy de Palma) and the pretty, young girl (Joana Ribeiro) with an overly protective father (Hovik Keuchkerian), et al.
Toby recalls having passion and idealism, plus dreams for the future hitched to that school project. In stark contrast are his testy Boss (Stellan Skarsgård) with a superficial wife (Olga Kurylenko) and location calamities, an overzealous agent (Jason Watkins), and nefarious backer (Jordi Mollà). After discovering the village is nearby, Toby's impetuous trip down memory lane takes a bizarre twist. Imagination begets an illusory landscape that obfuscates reality, as well as his sense of identity.
Following perhaps the longest film-gestation period in history—29-years, director Terry Gilliam's brought his interpretation of Miguel de Cervantes y Saavedra's novel to fruition. Co-written with Tony Grisoni, the screenplay is based on the episodic novel, The Ingenious Nobleman Sir Quixote of La Mancha (Don Quixote). Published in two parts (1605 and 1615), Don Quixote is one of Spanish literary canon's most influential works, and Western literature considers it one of the greatest novels written. Cervantes championed chivalry, idealism, and individual's romantic and "quixotic" quests into imaginative worlds populated with picaresque personages. Themes that run through Gilliam's films alongside plot twists, tragicomedy, and surreal landscapes.
Gilliam's film Don Quixote (2000) was beset by so many problems within three months the production was cancelled; a "making-of" film, Lost in La Mancha poignantly documented the cascade of disasters and rejection. Further attempts were in 2005 and 2016; therefore, last year's announcement caught many unawares. Gilliam's vision is brought to life by: Benjamín Fernández, production design; Alejandro Fernández, Gabriel Liste art direction; Eduardo Hidalgo, set decoration; Lena Mossum, costume design. Longtime collaborator Nicola Pecorini's cinematography shines, and Teresa Font and Lesley Walker's judicious editing wonderfully compiles the intrigues of multiple, cross-time-shifts. Roque Baños' music tingles with the passion and pathos of its surroundings.
Regardless of the wait, Gilliam succeeds brilliantly. "This is the beginning of a very new, and special relationship…" Watching layers of allegorical elements merging so effortlessly might jog audiences' acuity: some figures are determined to live forever. (Marinell Haegelin)