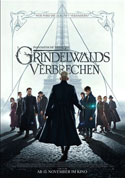 Phantastische Tierwesen: Grindelwalds Verbrechen (Fantastic Beasts: The Crimes of Grindelwald)
U.K./U.S.A. 2018
Opening 15 Nov 2018
Directed by: David Yates
Writing credits: J.K. Rowling
Principal actors: Eddie Redmayne, Katherine Waterston, Dan Fogler, Johnny Depp, Zoë Kravitz
J.K. Rowling introduced us to wizarding magic in the fantastically imaginative Harry Potter/Hogwarts universe, and again, owing to the 2016 film, Fantastic Beasts and Where to Find Them based on her same-titled 2001 book. However, its sequel and Rowling's first-ever screenplay lacks the former's fresh landscape and personalities. Set seventy years earlier than Potter/Hogwarts, she overplays the future into a muddled present making for a convoluted storyline; before seeing 2, update yourself with Fantastic Beasts 1 storyline. In addition, the countless new characters are cloaked in nebulousness.
Picking up where Fantastic Beasts 1 let off, during Grindelwald's (Depp) heavily guarded transfer from the American Magical Congress prison the powerful Dark wizard flees, then starts developing a cult of purebred wizards. Subsequently, magizoologist Newt Scamander (Redmayne) meets with a Ministry of Wizard council, supported by brother Theseus (Callum Turner) and Leta (Kravitz). Next, Albus Dumbledore (Jude Law) sends Newt Scamander (Redmayne) to Paris; no-maj/muggle Jacob Kowalski (Fogler) accompanies him. Besides looking for Credence (Ezra Miller)—surmised key host and with Nagini (Claudia Kim), the guys are looking for Tina (Waterston) and Queenie Goldstein (Alison Sudol). In a breathtakingly thrilling, but too early and long, crescendo the forces of good and evil collide.
Fantastic Beasts' second installment has David Yates again at the helm, and a compelling cast. Also returning, Depp and Redmayne own their characters, that are so contrasting their spellbinding performances commands our attention. Production design (Stuart Craig) and set decoration (Anna Pinnock) are gorgeous, as is every part of the spectacular visual effects.
The Wizarding World is a Rowling epic that has earned overwhelming respect over the years; audiences expectantly wait for any next installment. Unsurprisingly, Fantastic Beasts 2 is entertaining, and easy-to-watch fun. Alas, shy, self-effacing magizoologist Newt/Redmayne and those amazing, magical creatures are upstaged by too-obvious groundwork for upcoming Beastie franchise additions. Producer David Heyman, Rowling, and Yates should focus instead on what audiences' love best – the wonderment and magic of wizarding fantasy. (Marinell Haegelin)