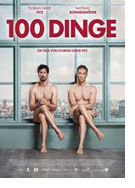 Opening 6 Dec 2018
Directed by: Florian David Fitz
Writing credits: Florian David Fitz
Principal actors: Florian David Fitz, Matthias Schweighöfer, Miriam Stein, Hannelore Elsner, Wolfgang Stumph
We have stuff. Too much stuff. The average person in 2018 owns about 10,000 items, to be more accurate. Yet, Pinterest, Instagram & co are full of decluttering 101 tips, minimalistic praises, insights of tiny houses and digital detox how-tos. The movement towards awareness and simple living is on a roll, and so it seems to naturally take advantage of that momentum and make a movie about ridding oneself from unnecessary possessions and concentrate on what is really important.
Paul and Toni are best friends since childhood. A match made in heaven. Toni and Paul love their stuff. Though Toni's obsession lies primarily in grooming and pampering his body like a temple, accumulating all things necessary to keep up a fit lifestyle, Paul on the other hand is a shopaholic, with a pile of unopened online shopping boxes and numerous white sneakers that all look the same and his true love: his cellphone.
When the two buddies strike the deal of a lifetime and believe they have it all, they challenge each other in a drunken argument to rid themselves of all possessions and to live without anything for 100 days. Each day they shall be allowed to retrieve one item out of storage. As they wake up naked and cold in Berlin's winter, realizing what they have done, the competition is just getting started. We find out where their priorities really lie, when Paul and Toni have to decide every day what item they want to pick up next. Are pants more important than shoes? What day would they pick up their cell phone? All these questions make this journey a fantastic ride for the audience, until it takes a fatal turn—a woman enters the picture. The mysterious Anna turns Toni's world upside down, not only endangering the entire bet but also Toni and Paul's friendship and their quest to find out what is really important.
What was so effortlessly deep and meaningful on the way to show us that we might really only need one pair of shoes and our lives are more than the sum of our possessions, takes a fatal turn when the movie introduces a woman. The second half of the movie is a higgledy-piggledy of the brilliant ground topic and a seemingly unnecessary romance that left me embarrassed and wonder why does happiness have to be tied to love in this case, when we were all in this together, on the path to real happiness and to find the love in ourselves?
Love the soundtrack, love the theme and just ignore the poor romance, then this movie can be a top pick for this winter's movie season. (Karen Eve Malinowski O'Shaughnessy)