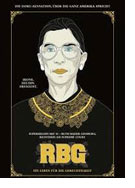 RBG – Ein Leben Für Die Gerechtigkeit (RBG)
U.S.A. 2018
Opening 13 Dec 2018
Directed by: Julie Cohen, Betsy West
Writing credits:

Betsy West and Julie Cohen's RBG is informational, educational, political, emotional, historical, and entertaining, in essence owing to U.S. Supreme Court Justice Ruth Bader Ginsberg. The Internet explodes whenever she writes a dissent; following a 2013 Supreme Court (S.C.) case, Ginsberg's fiery dissent earned the Internet meme Notorious R.B.G. (contrasting her with rapper Notorious B.I.G.). Ginsberg inspires television SNL (Saturday Night Live) skits, and "Super Diva!" T-shirt's double entendre honors her and her love for opera. The remarkable Ginsberg is, at 84, an icon, especially with Millennials.
A Brooklyn, New York native, in 1956 Ruth was one of nine women attending Harvard Law School. In 1971, Ginsberg's first case argued before the Supreme Court (S.C.) was about the Constitution's Fourteenth Amendment's Equal Protection Clause to women, and in 1975 she argued a reverse discrimination lawsuit on behalf of a single father. Advocate Gloria Steinem gives credit for all Ginsberg's quiet work that changed laws regarding gender equality and women's equal rights. In 1980, President Jimmy Carter nominated Ginsberg to a U.S. Court of Appeals seat.
Jane and James concur, Marty allowed Ruth "to be serious and reserved." "Dad did the cooking, Mom the thinking." Their parents met at Cornell University, married a month after graduation, and then attended Harvard in Cambridge, Massachusetts. When President Clinton appointed Ginsberg to the S.C. in 1993, Marty willingly moved from New York to Washington, D.C. Three days after celebrating their 56th wedding anniversary in 2010, Marty died. (Watch for, "Marty Ginsberg for Supportive Husbanding" tucked in the end credits.)
This biographical doc squeezes lots but not all details into 97 minutes, comprises pathos, grit, fortitude such as why Ruth learned to "burn the candle at both ends," and surprises. Production values are rock-solid; the point about Ginsberg "retiring" during President Obama's tenure is too subtle, considering a S.C. seat was held vacant 11-months in 2016 by the Republican-dominant Congress.
Prepared to step down when no longer able to forcefully do her job, Ginsberg quotes, "I ask no favor for my sex. All I ask of my brethren is that they take their boots off our necks." "What she did in the 1970s is very important now … (laws will) help keep our country in check." Ginsberg's stature may be diminutive, but her prowess is monumental. "Oyez, Oyez, Oyez, the Court is now sitting." Sit yourself down, and see RBG. (Marinell Haegelin)