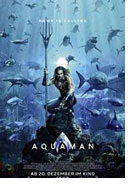 Opening 20 Dec 2018
Directed by: James Wan
Writing credits: David Leslie Johnson-McGoldrick, Will Beall, Geoff Johns, James Wan, Mort Weisinger
Principal actors: Jason Momoa, Amber Heard, Willem Dafoe, Patrick Wilson, Nicole Kidman
Less than 5% of the ocean floor has been explored. Who knows what may lie out there, in the middle of the Atlantic, or down in the depths of the great Pacific Ocean. Inspired by the ancient myth spread by Plato, Atlantis may well be out there with merfolk hidden deep in the seven seas…
Arthur Curry (Jason Momoa), born to the underwater queen of Atlantis (Nicole Kidman), and left behind for his safety to live ashore with his human father Tom Curry (Temuera Morrison), is fully aware of his inherited super powers, like being able to breathe under water, super swimming speed and mega strength. Though he chooses to use his powers for good, saving the innocent like a maritime Robin Hood from hyper modern Pirates, for example, he remains a mystery to the public, minding his own business; not much branding, or PR from his side, to this point.
So when Mera (Amber Heard), from an underwater kingdom, comes ashore to convince him to help save not only the underwater kingdoms world but the entire above and below the surface by challenging his brother's right to the throne, he only reluctantly and under dire circumstances, agrees to come to Atlantis to find out what this is all about.
As a "half-breed", it's not easy for Arthur to prove his claim to the throne, and challenging his half-brother, current king, and evil dictator to-be, Orm (Patrick Wilson), turns out to be a lot more difficult than Aquaman fans would like to see. Arthur's only chance seems to be to trust and follow the clues of a myth, a legend of the merpeople. Hot underwater-babe Mera, Arielle look-a-like and just as awkward on land as the Disney princess, is dedicated to help Arthur navigate under water and beyond to find help unite the seven seas. So begins their wild journey across deserts and oceans, following ancient clues to find what is supposed to unite the oceans and the surface under the true king. Now who might that just be?
Aquaman does have a lot going for itself. The action-blasting battle scenes, with gravity defying multi-dimensional moves and spectacular undersea beasts are worth getting excited about, despite exactly those attributes making it somewhat confusing. However, the story is crammed. So much going on, and a lot of information is squeezed into the already epic over two-hour long film, yet in-between all the action-overloaded underwater battles, many questions about the characters motifs, backstories and the merpeople in general, remain unanswered. We can hope Aquaman II will delve more into the potential Atlantis offers for storytelling. Tip for all fans: Stay seated beyond the first part of the credits! (Karen Eve Malinowski O'Shaughnessy)